You're a café, commercial roaster, grocery store, fair trade retailer, chocolate (bean-to-bar) maker, or nonprofit/school in search of exceptional, wholesale Haitian goods in the U.S. (we're working on Canada).
Yes, we do that. Singing Rooster offers wholesale Haitian goods across the spectrum — serve our Haitian products at cafes, put on your shelves or use at fundraising events:
roasted coffee (12 ounce & 5 pound bulk)
green coffee (132 pound sacks for commercial roasters)
dark chocolate bars & hot cocoa (classic & spicy)
raw cacao for chocolate makers (3 pound samples, 120 pound sacks)
metal art from upcycled oil drums across all price points
Shoot us an email to get the ball rolling: Include your name, phone, and link to your commercial / nonprofit / school website. We'll take it from there: Email us to create a wholesale account
Details on Singing Rooster's Wholesale Haitian Goods & Products
Haitian Coffee: we know Haitian coffee; we've been roasting it for over a decade. We offer a variety of roasts (from dark to light) and types (single serve, ground, whole bean, regular & decaf). Cafes love us because Haitian coffee makes a sublime espresso, pour over, French press & drip brew. More than that, Haitian coffee is perfect for cold brew –sweet, malty and low acidity. If you're a roaster… we have a section below for buying green coffee from Haiti.
Retail stores, Nonprofits & schools love Singing Rooster's Haitian coffee too. We have coffee for everyone where proceeds exceed 35% (that's great for coffee).
Low minimum requirement: 24 x 12 ounce bags or 4 x 5 pound bags (mix & match)
We're a member of the Fair Trade Federation & our farmer partners (in coffee & cacao) benefit from our collaboration. We pay higher than fair trade, have planted hundreds of thousands of income-providing coffee trees, have improved yields, increased capacity. Learn more about our work in Haitian coffee.
Haitian Chocolate Bars & Hot Cocoa:
Singing Rooster launched a dark, gourmet chocolate bar line years ago. We're glad we did. We offer a variety of flavors, including our seasonal peppermint bars. 78% dark, big 2.2 oz bars, nonGMO, vegan, gluten-free, soy free. Profit margins on chocolate bars exceed 50%. Low minimum purchase: 2 cartons/48 bars (single flavors or a variety).
Because of our success in Haitian chocolate, we developed a hot cocoa / hot chocolate recipe for the ages — where EACH package of our drinking chocolate has 3 full chocolate bars crushed into the mix. Our Spicy Hot chocolate has the added effect of heat and flavor — cinnamon and cayenne pepper. Low minimum purchase: just 15 bags, mix or match. 50% profit margins on hot cacao.
Haitian Raw Cacao: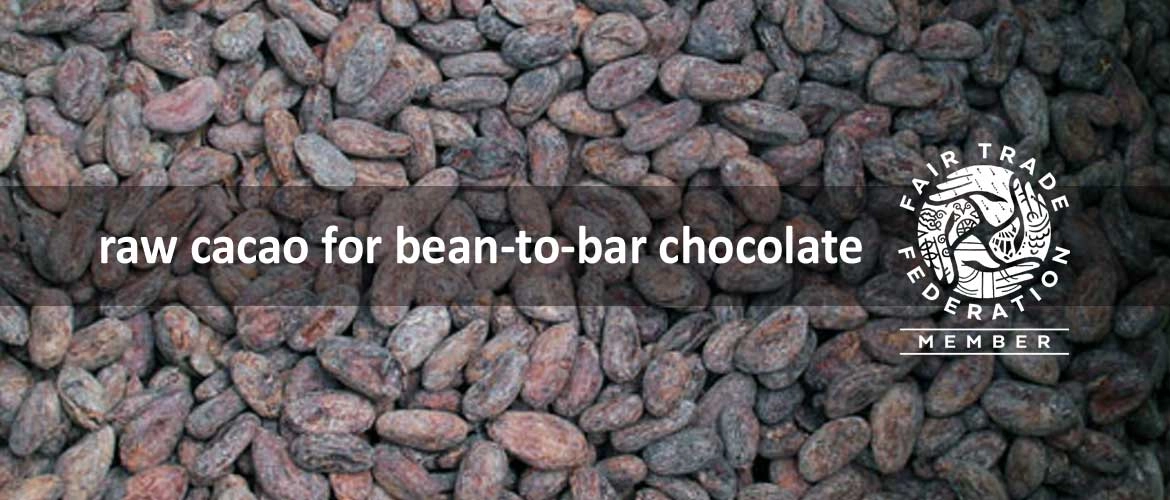 Raw Haitian Cacao for Chocolate (bean-to-bar) makers: Haitian cacao has nutty, licorice, and fruity flavors. Many report the beans "taste like chocolate cake." Learn more about these beautiful beans, then buy a sample of our certified organic & Fair Trade Haitian raw cacao. Ready for a 120 pound bag or pallet? We do that.
Green Coffee from Haiti: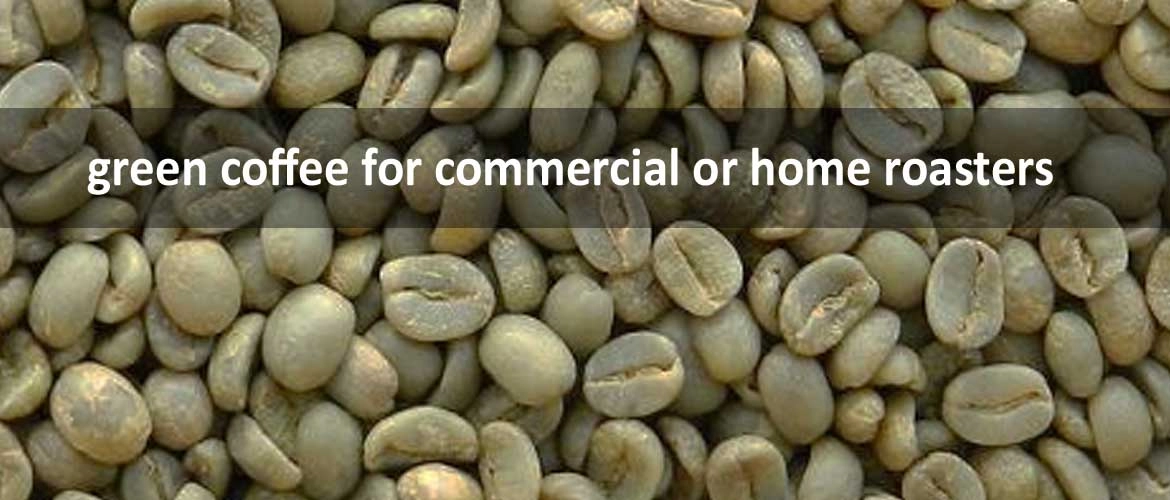 Commercial Roasters: we sell green Haitian coffee in 60 kg / 132 pound sacks. Haitian green is an exceptional Caribbean classic. We're thrilled when another person tells us "You're better than Jamaican blue." Order our 5 sample roaster's pack to get things rolling. Then tell us you're ready for a sack (or pallet) – we will work w/ your needs.. big or small. Home roasters shouldn't fret – we sell Haitian green coffee in smaller, 1 pound sizes.
Oil Drum Art from Haiti: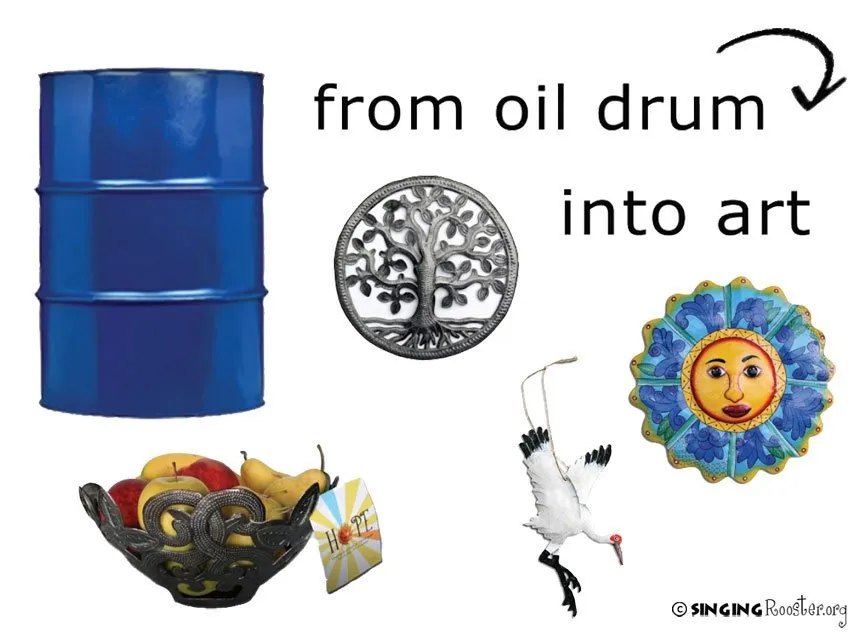 Fair Trade Retailers & Fundraisers:  Singing Rooster works tirelessly with our artist partners developing beautiful works that have commercial viability. From small ornaments to garden stakes to large metal sculptures, we offer art across the price points. Low minimum order: $199 / $20 flat ship from our warehouse in Wisconsin. *We're lowering our minimum order to $99 to help our artist partners through difficult times. Will go back to $199 in January 2023
Shoot us an email to get the ball rolling: Include your name, phone, and link to your commercial / nonprofit / school website. We'll take it from there: Email us to create a wholesale account
Wholesale Coffee in Haiti
Have a facility on the ground in Haiti? (guesthouse, boutique, clinic, office) We wholesale Haitian coffee in Haiti too.
Singing Rooster works shoulder-to-shoulder with Haitian farmers & artists. We've been a proud member of the Fair Trade Federation for years.
Want to put Fair Trade Haitian goods on the shelves? Shoot us an email to get the ball rolling: Include your name, phone, and link to your commercial / nonprofit / school website. We'll take it from there: Email us to create a wholesale account
Wholesale, Fair Trade Haitian goods & products via Singing Rooster: coffee, cacao, chocolate, art . #haitiancoffee #yourcupmatters #singingroostercoffee