We've been building direct market access for Haiti's small producers for years by wholesaling Haitian goods: Fair Trade Retailers, grocery stores, independent coffee shops, and groups big & small (sometimes individuals) who use Haitian goods at fundraising events.
Need wholesale coffee in Haiti? We do that. Your guests want to go home with the perfect gift — make it coffee!
Contact us to create a wholesale account in Haiti. Our roasting brings out the true flavors of Haitian coffee: chocolaty sweet w/ mellow citrus highlights in a rich medium or luscious dark roast. Now in Hazelnut flavored coffee too!
12 ounce bags (medium & medium dark roasts: ground or whole bean, 24 bag minimum)
7 pound bulk (medium & medium dark roasts: ground or whole bean, 21 pound minimum)
New: 8.8/250 grams of Hazelnut flavored coffee (special request)
Where to buy Singing Rooster coffee in Haiti:
• Caribbean Market
• Haiti Design Co-op Cafe
• Papillion Enterprise
• Haiti Communitere Guesthouse
• Matthew 25 Guesthouse
• Haiti Made Cafe (Christianville)
• PaP Airport (upstairs)
• Boutique at Karibe Hôtel
• GIANT PV Supermarket – Delma
• EAGLE Supermarket
• Stop and Go Supermarket
• Belmart Market
• Gift shop at Marriott Hotel
• 2nd Story Goods Gift Shop
• Deux Mains
• Lakou Lakay Gift Shop
• Agape to the Nations
• Ti Kokoye
• House of Hope Guesthouse
• many, many more!
Free Marketing materials come with wholesale orders — just tell your sales person what you need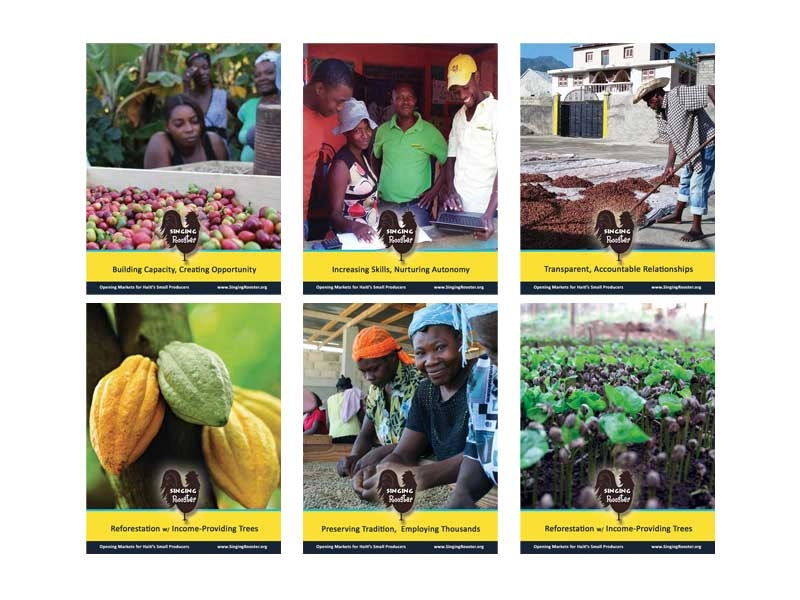 Want to tour our Haitian coffee roastery in Croix des Bouquet?  We do that.
Stay in the Know – join our monthly e-news