Shop Online for Mother's Day & support Moms in Haiti
Shop Mother's Day gifts online: Haitian coffee, chocolate, art. Directly support Haiti #SingingRooster #yourcupmatters #haitiancoffee. Singing Rooster – a social enterprise nonprofit who means business. We work with small producers in coffee, chocolate, art. We sell their goods and take 100% of proceeds earned back to Haiti to build better businesses– especially for moms. Moms are the backbone of Haiti's coffee economy. They plant and harvest trees then spend hours sorting and bagging coffee.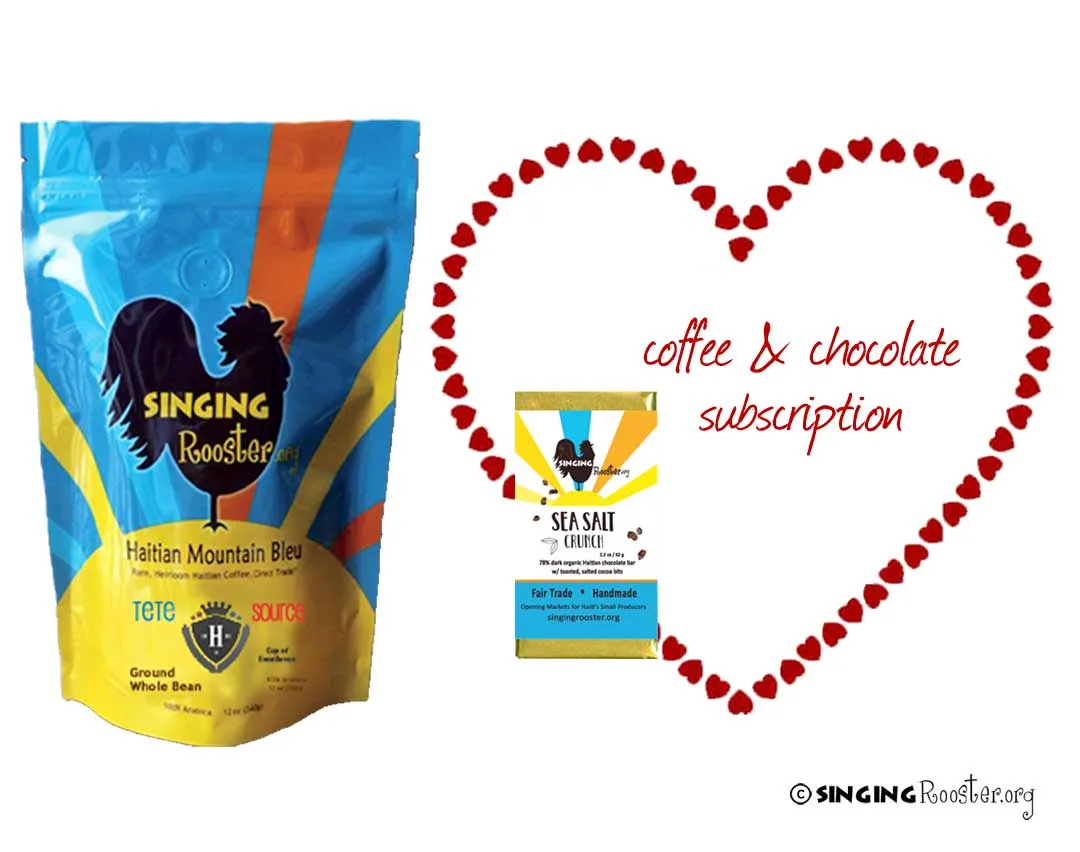 Want to help mothers in Haiti? Put Haitian coffee on the table each morning. Buy YOUR mom Haitian coffee online — your purchase directly supports somebody's mom in Haiti.
Better yet, set mom up with a monthly delivery: Haitian coffee subscription. We'll automatically send mom her favorite coffee each month. We even have a subscription that adds in a dark Haitian chocolate bar.
Love Mom to the Moon & Back Metal Wall Art
Mom will love our metal word art so much, she'll wish you bought more. About 17″ wide x 8″ tall. Shop mother's day gifts from Haiti – because #yourartmatters.
Dark Haitian Chocolate Bars – perfect gift for Mom
Dark chocolate is always the perfect gift for mom. We have different flavors because variety is the spice of life. All of our bars have a 78% chocolate base, then we mix it up by sprinkling on dried Wisconsin cranberries or sea salt or roasted coffee! For the winter holidays, we go a bit crazy & sprinkle on crushed peppermint bits. Go nutty on Mother's Day – send mom a CARTON of Haitian chocolate at wholesale prices (nobody has to know you saved a few bucks). Buy wholesale Haitian chocolate today –>
Haitian Chocolate AND Art
For a truly special gift for mom – we fill our handmade metal bowl with 4 dark chocolate bars. She'll likely snarf down the bars in a matter of days (no judgement – our chocolate is that good), but the delicate, upcycled bowl will last a lifetime. The Haitian artist (designer + fabricator) is Mackinson; he's new to the Singing Rooster family, and we couldn't be prouder tp know him. Your purchase of this gift directly supports our small producer artists & we thank you. Purchase this special Mother's Day gift online today.
Haitian Art Just for Mom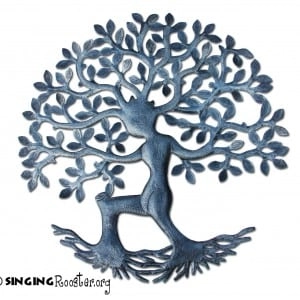 If mom is a patron of the arts, Singing Rooster has a fabulous Mother earth tree of life.
She's bold, a bit sassy (just like mom), and she's hand-chiseled from upcycled steel.
That means mom can hang her inside or out.
Buy Singing Rooster's Mother Earth Tree of Life here –>
Big Kahuna Gift Basket – free ship
You're a big fan of mom – she's done a lot for you. Show her appreciation by sending her the big one — a metal art basket filled with Haitian goodies: coffee, chocolate. We'll toss in a hand embroidered Love greeting card. Mom will love you for it.
We grow by word of mouth. If you appreciate our work, tell your friends to shop Singing Rooster for mother's day gifts — the finest Haitian coffee, chocolate & art online. We thank you because #yourcupmatters.