Singing Rooster, Inc.
Type: Social Enterprise Non-profit (501 c 3 / EIN letter)
Founded: 2009
Headquarters: Hager City WI
Fair Trade Federation Member
Contact us for press-ready photos (you're a current customer or are writing a story about us)
High resolution logo
Company Fact Sheet
Mission: Singing Rooster supplies U.S. and other international markets with gourmet Haitian coffee (green or roasted), chocolate bars or cacao (for chocolate-making) and art (for fair trade retailers, nonprofit fundraising). Join us – we're a social enterprise nonprofit who means business. We partner commercially with small producers in Haiti to build better businesses while simultaneously re-introducing the world to fabulous Haitian products.
Join Singing Rooster and help build better businesses for Haiti's small producers in coffee, cacao (chocolate) and art. Because #yourcupmatters
info@singingrooster.org
608-721-0622

Singing Rooster is a social enterprise nonprofit with an integrated supply chain benefiting small producers: coffee, cacao, art.Our partnership model is holistic, and our collective goal is to build international markets for world-class products. We re-invest 100% of our own profits into strengthening business activities of small producer farmers and artists. Our staff provides management, financial resources, record keeping and agronomic support to several farmer-owned networks across Haiti. We aggregate coffee and cacao from over 40 cooperatives that represent over 10,000 smallholder farmers.
Key Corporate Milestones
Premium Prices: Without Singing Rooster, farmer cooperatives are forced to compete with local traders from Haiti and the Dominican Republic, who purchase export quality crops at low prices.
We pay a minimum of $4 per pound to farmer cooperatives and return another 50 cents after crops are transformed and sold.
Our method allows farmers to financially plan without threat of falling prices. As of 2018, Singing Rooster has purchased over 520,000 lbs. of coffee, several tons of cacao, and thousands of pieces of art equaling over $2,500,000 paid directly to small producers.
Harvest Management: Our agronomists spend long hours traversing Haiti's mountains. Their efforts have paid off: quality improvement training has increased export yields over 30%This is significant in a country where 70% are unemployed and rural economies are lagging. There are 100,000+ jobs in coffee and cacao agriculture; our work has immediate impact to rural economies.
Reforestation & Food Security in Haiti
In a country where less than 5% of lands are forested, we have planted over 200,000 coffee, food, and shade trees. Coffee trees have IDEAL root structures for holding delicate mountain soil. They have taps roots, but it's the horizontal roots that stretch for METERS that are essential in keeping topsoil in place.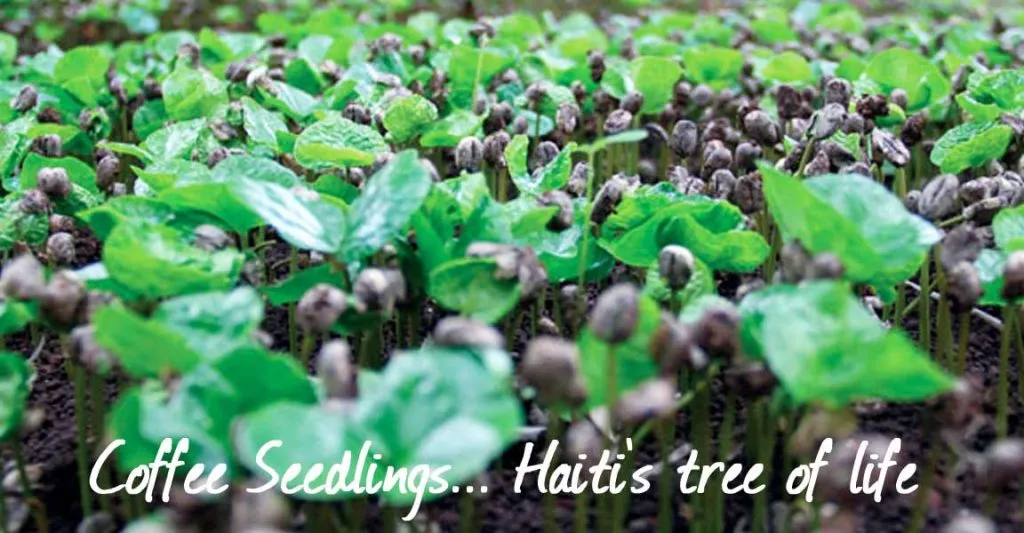 Coffee trees are important for Haiti's environmental recovery for many reasons; they're income-providing, and they won't be cut down. Moreover, because coffee trees are water intensive, they thrive in the shade of taller trees; this means that trees protecting coffee plants won't be cut down either.
Building a Movement through Markets : When farmers sell crops, they make money. When crops are transformed into higher valued items, like 70% gourmet chocolate bars and craft roasted Haitian coffee, farmers make even more money. We've built in-roads and have created direct access to markets on behalf of farmers; we return 100% of proceeds from coffee and cacao sales to re-invest in Haitian businesses.
Use this text and one of our logos to link back to Singing Rooster's website from your own site or social media:
Singing Rooster is a social enterprise nonprofit who means business. We partner with the Rooster to support Haiti's small producers, reforest Haiti & build rural economies by buying Haitian coffee, Haitian art and Haitian chocolate.
In the news – smattering of articles about us (we're grateful)
Palm Beach Illustrated — we're thrilled to be included in a shout out to our coffee partner in Jupiter Florida — i Need Coffee (we love Daniel & Cat)
thePerfect Daily Grind – a Guide to Coffee Production in Haiti
Jupiter coffee shop helping artist in Haiti
Nonprofit coffee importer Singing Rooster adds chocolates from Haiti
Singing Rooster Coffee Brings a Good Cup of Joe


Fair Trade for Haitian Coffee


Singing Rooster is SERRV's #1 selling coffee


Lee Row interviews Molly Nicaise about Singing Rooster


Revitalizing Haiti's Coffee Industry



Singing Rooster and CRS Bring Haitian Coffee to the US
Our favorite SEO websites: https://www.activesearchresults.com/
Stay in the Know – join our monthly e-news