Singing Rooster is re-branding November 11th as "Hug your favorite Veteran Day."  We're wrapping our arms around Justin Dena — our Director of Development and our favorite Veteran.  He's building markets and leading trips / visits to Haiti.  Interested in touring coffee fields in rural Haiti? We'd love to have you come along.
For those of you who know us (truly know us), you know Singing Rooster has been working in Haiti for over a decade and that we are really, really small.  We've needed help for years but like most small and super busy organizations, we just didn't have the time to put thoughtful effort into it.
That's where Justin came in — he emailed Molly.  Then he called.  Then he emailed again.  Then he (sweetly) invited us to meet in Haiti.  We couldn't resist.  He's tenacious and charming and seemed too good to be true.  After 3 days with Justin – we were sold.  We hired him for a job we never posted. He's smart and industrious, and we're glad he's on board.
Justin has a degree in International Rescue and Relief (that's a thing) and served our country (the world) in the United States Marine Corps.  He has a special place in his heart for Yemen (and Haiti).  Although he could lift most people up with one hand and eat a plate of creole goat in under 3 minutes, he's a quiet, unassuming guy.  If you're lucky enough to meet him one day, you'd witness his gentle determinism.  You'd wonder if anyone could be that competent (and that nice).
Coffee Supply Chain Haiti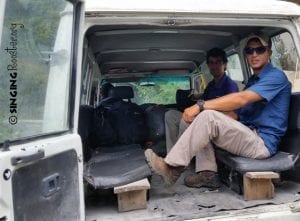 He's well equipped to help manage Singing Rooster's coffee supply chain in Haiti (that's where his heart is), but he understands our immediate need is to build more inroads to U.S. markets.  He's doing a great job of introducing specialty roasters to rare #haitiancoffee and cafes to our sublime roasted goodies.  He knows that #yourcupmatters.
If you're a fan of Singing Rooster, please welcome Justin to the team.   If you have a good lead to a new market, he'd be more than grateful.  Give Justin Dena a call or shoot us an email.
justin@singingrooster.org
928-963-4648
Now go and hug your favorite Veteran, and tell him or her this this:  "Thank you for all you've done and for what you continue to do. We admire you and appreciate your service."  Remember that Veterans put more into the world than they get back, and it's time we let them know we love them.  Then we need to help them help all of us to work towards a peaceful and just world.
Facts about Veterans Day:
There's no apostrophe in veterans
Originally called Armistice Day, Veterans Day commemorates the end of World War I
This day honors those who served and are currently serving our country in the military
Great Britain, France, Australia and Canada also commemorate the ending of World War I (around November 11th)
A record number of Veterans are becoming political leaders
16.1 million living veterans served during at least one war
35% of living veterans served in the Vietnam War
5.2 million veterans served in peacetime
2 million veterans are women
5.5 million veterans served during the Persian Gulf War
Veterans are more likely to vote
The unknown solider in Arlington Cemetery was identified in 1998 through DNA tests as Michael Blassie, a 24-year-old pilot shot down in 1972 on the border of Cambodia
#veteransday2018
#yourcupmatters
#lovenotwar
#goodtrouble
#haitiancoffee
#exporterspecialtycoffee