Want long-lasting (self-sustaining) impact in Haiti? Support small family farmers – including urban / community gardens
Singing Rooster has been investing in small producer farmers in Haiti for over a decade. We launched operations with Haitian coffee farmers in 2009 and became 501c3 nonprofit in 2010. In 2015, we expanded our work to include cacao farmers (crops used to make all things chocolate). Since 60% of Haitians identify themselves as part of a family farm, it makes sense that sustainability efforts begin with agriculture. We'll tell our story first then urge others to become inundated with agriculture; specifically, we'll recommend & provide resources on growing food in Haiti (including re-vamping Haiti's schools around community gardens).
In a country where unemployment hovers around 60%, over a third of the GDP is western union, and 60% of the food is imported, we need to bring the hammer down on creating sustainable communities & it begins by investing in agriculture — especially urban and community gardens.

-Molly Nicaise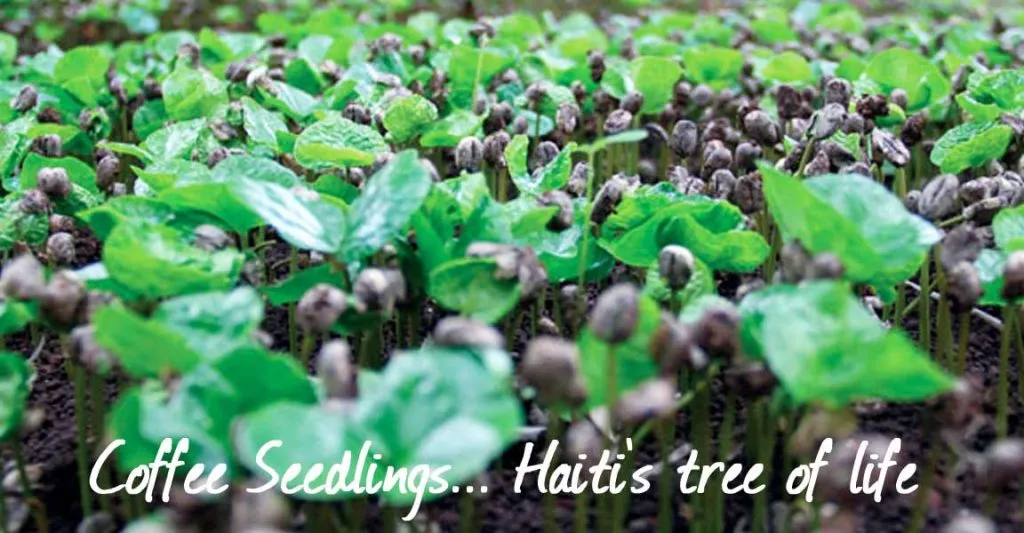 Why does Singing Rooster focus on coffee and cacao?
We blame it on Google. Over a decade ago, after several trips to Haiti with our church, we researched "crops of Haiti" and discovered Haiti was the world's 3rd largest supplier of coffee in the 50's for a reason: Haiti is the most mountainous country in the Caribbean. 65% of Haiti's lands are vertical. Coffee loves altitude. Plus, USAID had put in place several coffee processing centers in the 90's. So we thought this: Haiti used to be good at growing coffee & there's a semblance of an infrastructure…. How hard can this be? (insert sound file of entire office laughing here)
Singing Rooster workswith coffee farmers as high as Dondon / Trou du Nord (Pilette) as far south as Thiotte and the Belle Anse and on the western mountains of Beaumont (in 2016 Hurricane Matthew traveled directly over this region, decimating towns, infrastructure, livestock and crops. Coffee is still in recovery in Beaumont). Our partner cacao co-op is located in the north, near Port de Paix. Coffee and cacao were once significant crops for Haiti and can be major factors in Haiti's path to self-sustainability (job creation, economy-building).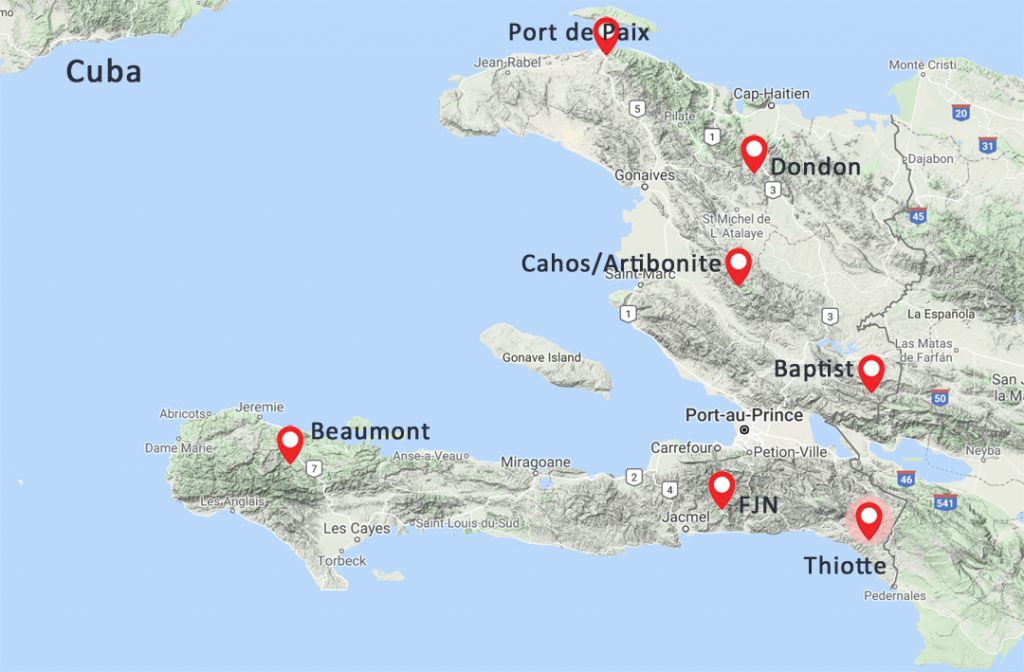 Given coffee grows (or used to grow) prolifically across Haiti's highest peaks, we started in earnest on this crop. That said, we're quick to recognize that only a handful of communities can make livings from coffee agriculture (those living high on the mountainsides, those who've grown coffee for decades, those who have a semblance of a coffee processing infrastructure). Moreover, with a rapidly warming global climate, hotter temperatures are pushing coffee higher up on the mountains. There may come a day when global warming kills coffee production in Haiti (and most of the world).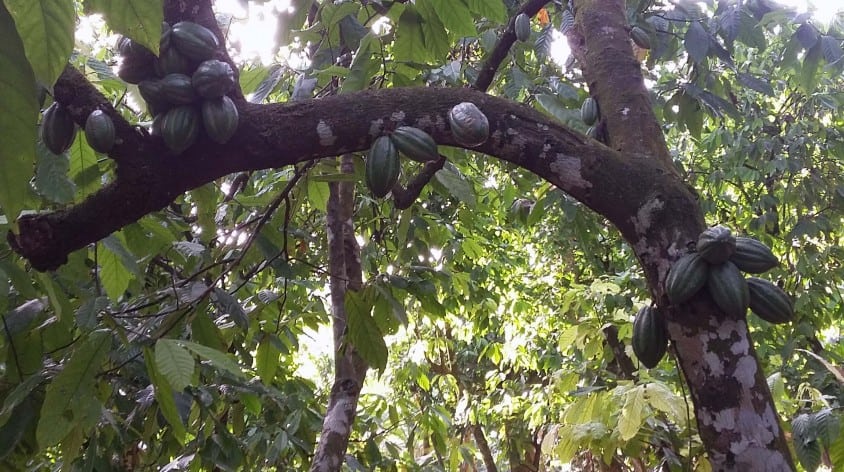 Cacao, on the other hand, thrives in the humid lowlands — preferring altitudes under 1000′. Coffee and cacao processing share a lot in common: picking ripe crops, fermenting beans, then carefully drying them. Our work with small producer farmers begins on the farm. We've increased yields, planted hundreds of thousands of new coffee trees (and shade tree canopies) on deforested mountains, renovated hundreds of farms, and improved processing techniques. We've taught business management to small farmer co-ops, and we've created in-roads to markets. We've, literally, put millions directly into the pockets of farmers while simultaneously helping to build stronger, sustainable businesses through agriculture.
But working with export quality crops has numerous challenges. Unless the community in which you work has a history of growing coffee, cacao, or mangoes (CRS work near Les Cayes), you'd be better served to work on community gardens. Would we focus on export crops if we had to do it all over again? We're not sure. But what we are certain about is that helping Haitian partners to develop local food sources through big, medium or small agriculture investments have significant impact locally.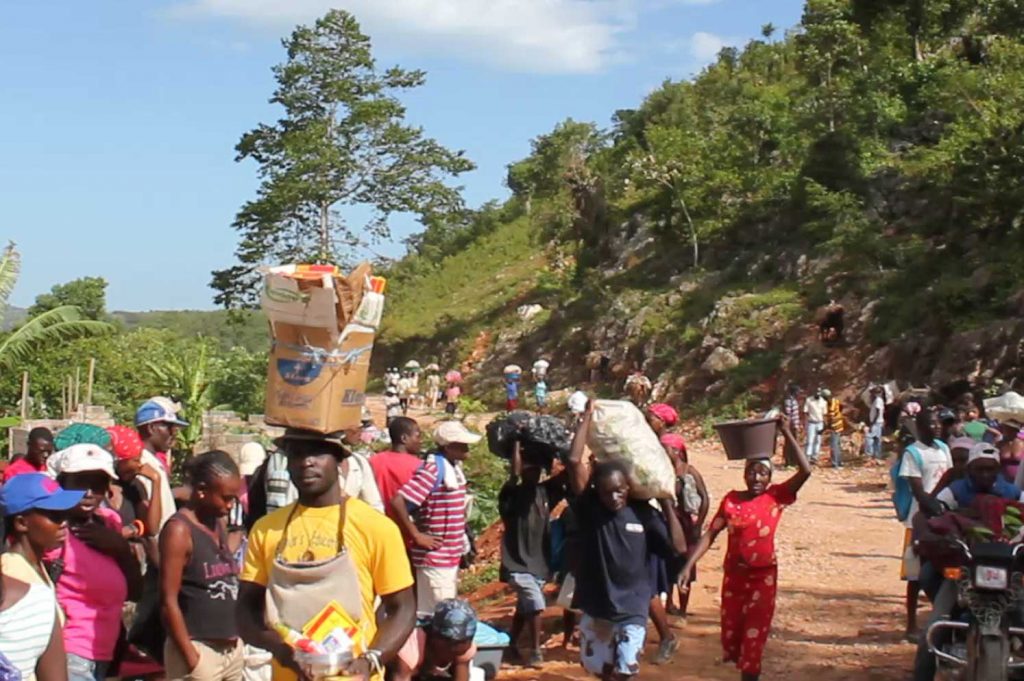 Motivating Statistics:
Haiti is often called a Republic of NGOs for good reason. In 1998, the World Bank estimated up to 20,000 non governmental agencies operating in Haiti (includes church-based nonprofits).

Those numbers likely increased after the 2010 earthquake during which CNN reported over 40,000 NGO workers and volunteers are in Haiti on any given day. NGOs provide Haiti with necessary stability through ideas, leadership, tools, equipment, resources and money.
Half of all clean drinking water is provided by NGOs
85% of all schools are private, run by NGOs
70% healthcare is provided by NGOs
These numbers are significant; given NGOs plus the thousands of volunteers who travel to Haiti to make helpful impact, it becomes our duty, responsibility to turn acts of generosity into self-sustainability:
With rampant unemployment (60% +), jobs are few. All those schools pumping out educated kids with few opportunities of employment is depressing.
If clean water systems break down, many stay broken because the NGO has not put in a self-sustaining maintenance program.
Churches that have supported communities for years are getting smaller. What happens to the Haitian schools, clinics, food programs when a church pulls out of Haiti? (Answer: those communities go into rapid decline)
When most foreign doctors lend a hand, it puts local Haitian clinics and doctors out of business.
2.2 billion rolls into Haiti annually from Diaspora — that's 33% of the Gross Domestic Product.
Haiti imports over 60% of its food– sacks of "free" rice or hugely discounted peanuts have upended Haiti's own farmers for decades. Fortified meal packets are distributed by the tens of thousands. DAILY — not just in times of disaster relief. Imported food has wreaked havoc with Haiti's own ability to feed itself. During 2 years of Covid + many more years of political violence, over 4 million Haitians are now food insecure because "free" food didn't make it into Haiti, and gang violence is preventing distribution of what's there. Nearly half of the hungry are children; one in five is acutely malnourished (World Food Programme).
Invest in Gardens & Haiti Prospers
With a majority of Haitians living as small-holder farmers, supporting Haiti's current farmers, then investing in future farmers — developing an army of backyard, community gardeners — becomes a BIG part of creating sustainable business opportunities.
Employ farmers, and rural economies begin to flourish. Children value communities and don't move to the depressing city. Farmers (not wealthy middleman companies) spend earnings in Haiti. Now add in urban gardening / helping Haitians to grow their own food allows less reliance on habitual food aid.
Specific steps are important to ensure sustainable development around agriculture
Three of the most significant challenges include access to water, access to fertilizer, changing the Haitian diet –then re-invigorating heavy clay soil w/ compost & managing pests
Step #1: Change starts in your own cup
This recommendation is more than a shameless self-promotion: 80% of adults drink coffee & they should. Research on the health benefits of coffee are plentiful. By simply changing what you put in your own cup, you'll infuse rural Haitian economies.
66% of each bag of Singing Rooster coffee goes to farmers. PLUS…. we plant trees, improve techniques, and provide other support. As of 2022, we've enjoyed 12 years of uninterrupted commercial, technical & business relationships with Haiti's farmer owned associations/cooperatives to do this (these are 2022 stats):
– purchase / import over 500,000 lbs of coffee directly from farmer associations (Americans drink 12 million cups of coffee daily)
– roast / sell over 400,000 bags of of coffee (when we retail, we put those earnings towards paying staff in Haiti + purchasing equipment/vehicles)
– plant over 320,000 new coffee and shade tree seedlings in collaboration with farmer associations
– purchase / import over 50,000 lbs of cacao directly from farmer associations – our new dark chocolate bar line is fabulous #shamelessplug

– pay over $2 million directly to the farmer associations
– grant over $50,000 to farmer associations through matching grants (each co-op picks a community project like a new well; we help pay for these projects)
– import to Haiti over $300,000 worth of state of the art agricultural equipment which helps with efficiency, productivity, and motivation (farming is labor intensive; even small equipment improvements lifts spirits, increases their drive to succeed). Check our our sister partner's website, Kok ki Chante, where farm equipment is sold in Haiti.
– pay over $500,000 to train farmer associations & transform their coffee fields
Provide full-time employment for 10 Haitians, seasonal employment for 50-60 bean sorters, and 15-20 farm workers (7 months of the year). This alone is significant. Our initial investment of $500,000 paid for the training and then salaries of Haitians. After several years of work, our Haitian-lead team formally organized as a Social Enterprise commercial enterprise known as KKC (Kok ki Chante). After 12 years of hard work, it is now self-sustaining.
Case in Point: Christ the King
One partner church can yield significant results: in 5 years, CtK has purchased about 12,500 bags of roasted, wholesale Singing Rooster coffee (80% of your congregation will drink coffee anyway, so make it Haitian). If CtK earned, on average, $3.50 per bag sold, $44,000 in proceeds were generated to support teacher salaries at their school in Pilette. But it's much bigger than this. Because CtK is a wholesale customer, it enables Singing Rooster to do this:
pay farmers well: $37,000 went directly into the pockets of farmers
employ Haitians (this coffee allowed us to pay our KKC support team $22,000)
plant ~10,000 income-providing seedlings on deforested mountains
$44,000 + $37,000 + $22,000 = $102,000 (and reforestation w/ coffee trees)
Lesson learned: when wholesale customers return their own proceeds to Haiti, Haiti "earns" 77% of every bag sold of Singing Rooster coffee.
Convince your family, friends, and congregation to switch to Haitian coffee. Assign youth groups to monthly coffee carts – first Sunday of the month. Create a Singing Rooster wholesale account today.
Step #2: Eat Local / Stop eating white rice when in Haiti (80% comes from the US)
When you're in Haiti, eat local & support Haiti's current farmers. Eat local produce like avocados, mangoes, carrots, yams, plantains, tomatoes. Other top crops include: cassava, bananas, sweet potatoes, maize, and guava. Read labels — if the peanut butter is made in Haiti, slather it on (careful, they like it hot). Melons, papayas, pineapple, lemons, oranges, chadeque (a cousin of grapefruit), passion fruit, cherimoya, and coconuts are almost always in season!
Whatever you do, say NO to U.S. white rice. Supporting local rice farmers creates a need for more locally sourced rice (jobs: growing, processing, packaging, distributing). Excellent article on how the US decimated Haiti's rice market. Plan ahead – you can't just show up & say "no" to the US white rice. You have to tell your Haitian partners in advance of your food expectations.
Tell your Haitian partners that when you visit (there are tens of thousands of us there every day), you refuse to eat white Rice. If rice is served, ask that they revert to pre-Clinton rice dumping days and serve rice once or twice weekly (Haitian elders will tell you that's how it was decades ago — rice was a treat, eaten on Sundays). Insist that when you are served rice, it is rice grown in Haiti. Be warned, it's more expensive (Haitian farmers don't receive heavy subsidies like US farmers).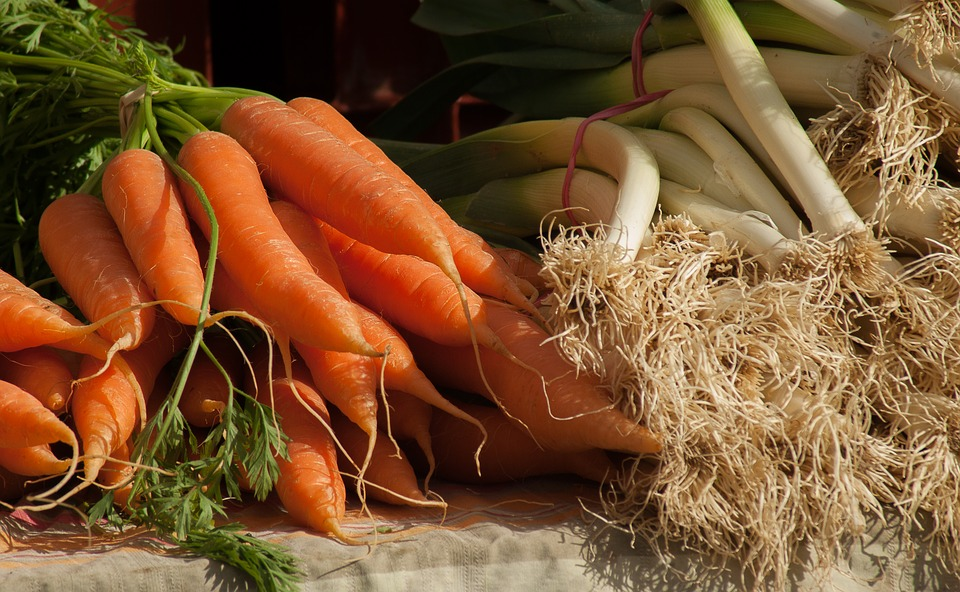 Request in-season fruit & vegetables. Plan ahead: bring easy to make recipes that make use of in-season fruit and vegetables. Create cooking classes to expand Haiti's diet. Enlist your educators in creating easy to follow lesson plans that integrate healthy cooking into school curriculum.
A bed of roasted potatoes & carrots, topped with fresh arugula, shallots, shaved asparagus and toasted almonds dressed in a creamy avocado vinaigrette anyone?
20 easy carrot recipes
25 ways to cook plantains
5 ways to use breadfruit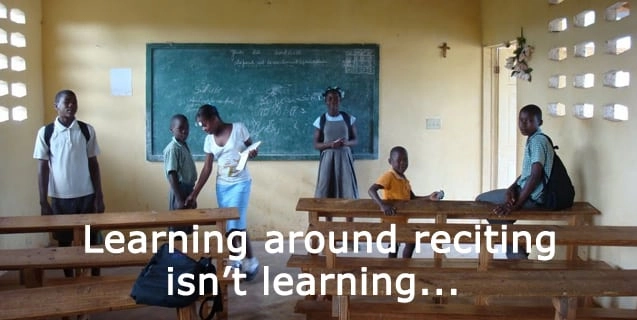 Step #3: Revamp community projects & the school curriculum around agriculture (vegetable / community gardens)
Creating learning opportunities in Haiti around agriculture is important:
reciting isn't learning; situating learning around meaningful activities engages learners
creates future farmers / gardeners means less dependence on foreign food
creates future jobs — gardeners sell local produce to the local markets
produce feeds students at the school
a better, more nutritious diet (starchy rice sits in the gut; vitamins from veggies = fuel for the brain)
Advice: create a group of 6 to hammer out details, provide guidance for your group / parishes in Haiti:
2 garden experts / enthusiasts
2 teachers / curriculum designers
cook / nutritionist
jack of all trade: tool organizer, seed finder, garden-center set up
An entire curriculum of language-learning, math & science can be situated around community gardens: chemistry of soil analysis, biology of plant species, marketing crops to local consumers, health education through cooking local. Create a task force of educators & other interested parties. There are so many resources to fuel the work. And here's living proof: Perseverance, Hope and School Gardens in Haiti (farmbasededucation.org) The World food program has also begun to work w/ Haiti's government + small farmers to produce 100% local food feeding at school: Home Grown School Feeding initiative
Good Resources for Thought
Rationale for Garden Based Learning
Gardens as context for Science are plentiful
School Gardens — A ton of useful materials
Start a classroom garden by following these basic steps
Utilize our garden lesson plans for connections to Common Core standards and children's literature
Apply for school garden funds from Growing Minds
Download and customize our This Week in the Garden weekly activity guides for school gardens
Tips for gardening with students
Bountiful Grains – vegetable garden layout
How to Plant a vegetable garden
Haiti's soil. It's a really long (long) article, but useful?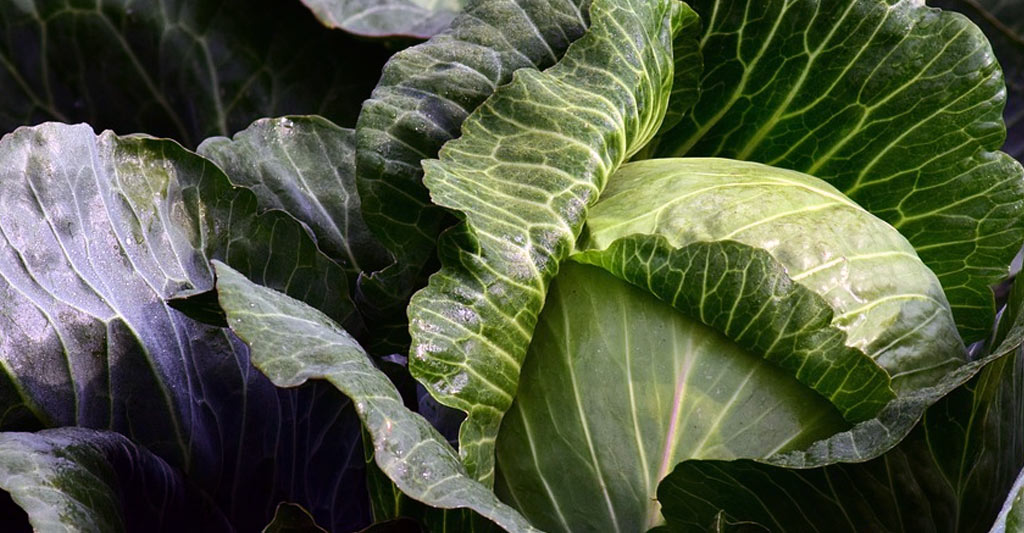 Step 4: Create Garden Center Startups
Include start up gardening centers/tool sheds in your next 5 containers — excess shovels, hoes & gloves clutter most garages. Set up a system where Haitians can borrow tools, buy seeds, get advice (make sure to check out what is already for sale in Haiti). It's important that Haitians pay for goods & services — where money earned employs the person managing the center and buys additional tools.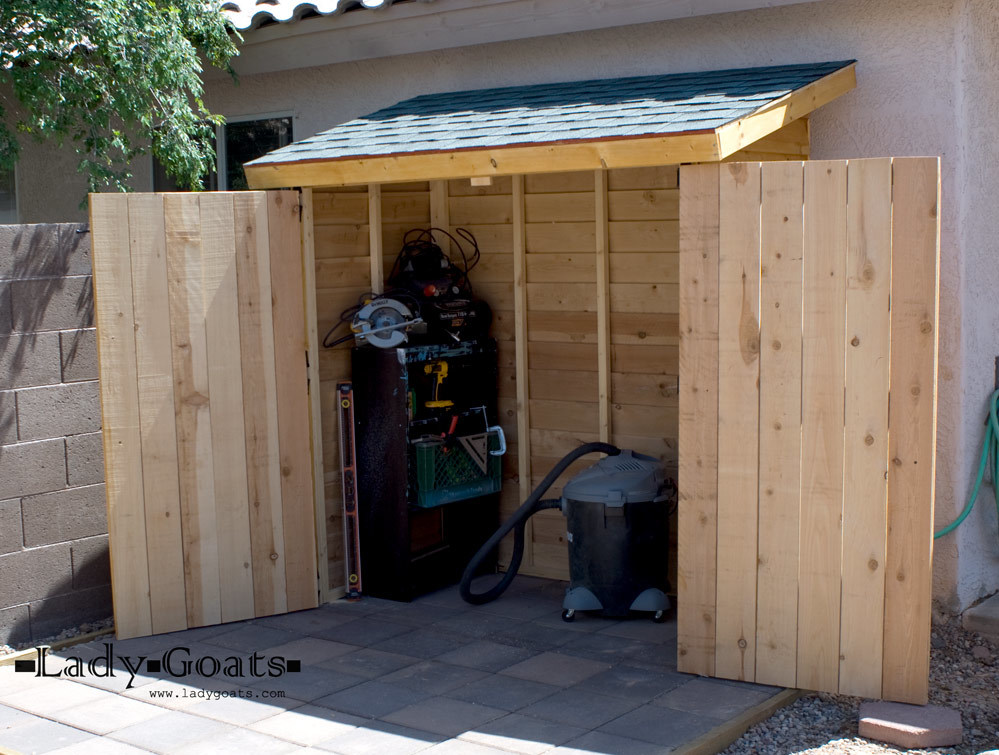 Resources for Creating Sustainable Communities in Haiti through Urban Gardens:
www.hopeseeds.org does GREAT work in Haiti; part of their work includes donating seeds – here's a link to their application form for free seeds.
Another seed organization: Order Seeds – Seed Programs International (100 packets = $40)
Don't know which seeds to order? No worries – this PDF explains great vegetables to plant.
Grown in Haiti has a small nursery of diverse food bearing trees. Since 2014, they have planted and distributed over 6000 food-bearing trees. They write about food forests which is worth a read. If your group is near Jacmel — they're worth a visit.
One of the largest urban gardens, is in cite sole.
Farm Haiti has created a demonstration garden in Pignon — complete with a water tower and drip irrigation. If your group is near Pignon, maybe they'll host a visit?
Need solar power at your school? DigitalKap offers solar panels, knows how to set up solar systems for school computer labs, and has worked with Digicel & Habitat for Humanity on solar street lights & charging stations: Haitian owned.
Need clean water for the school & greater community? We love Gift of Water
Fertilizers that work great in Haiti:
Chicken waste works wonders, but it's not always available. Ask elders in your communities about nearby chicken coops.
Composting toilets are also excellent fertilizers. If you are near Cap Haitian, contact SOIL to learn more about their program. In the north near Bassin Caiman? Haiti H2O has examples of composting toilets. Not near the Cap — there are tons of composting toilet enthusiasts online – this one is especially good.
If you can get an expert on worm-castings – that would be fabulous.
My personal favorite fertilizer? Moringa grows everywhere in Haiti; Indian food scientists have discovered that spraying vegetables w/ a moringa "tea" every 2 weeks increases yields by up to 35%. It natural "miracle grow" (without all the phosphates). This is so easy to do where a rock & a sock + drop of soap + sprayer is all you need (blenders are for sissies):
cut several branches from young leaves off the tree
strip these branches of leaves (swipe your hand down the stems to remove just the leaves)
add 2 cups of leaves to a sock (cheese cloth works the best, but so do socks) & pound the dickens out of it — a rock works great but so does a meat tenderizer. If you have a blender, use it.
let the sock soak in a liter of water over night
wring the sock to get all the good juices out of it back into the liter of water
pour this liter into your sprayer & add a couple drops of liquid dish soap; this helps the fertilizer stick to the leaves
spray onto the vegetables every 2 weeks when leaves are dry & rain is not in the immediate future
if the garden is big & you have a blender, make a party of it: chop up / blend an entire barrel of this magical elixir — strain w/ a cheese cloth to make the spraying tenable
#singingrooster ?
#haitiancoffee☕
#yourcupmatters ?
#economicjustice ?
#fairtrade ⚖
#greencoffeebean
#reforestHaiti ?
#haitifarmers ??‍?
#eatlocal ?