On occasion, when we remember, when we're not terribly exhausted, and when presented the opportunity, we enjoy interviewing the Rooster's metal artists to learn more about their lives, inspirations, dreams for their city, selves.
We learn many things during short on the cuff conversations — including that employment options for Haitians are dismal. Haitians tend to "choose" jobs around a couple of things: where they live and anything that brings in money.
Even those who attend higher education (not many), may resort to metal art if they're not able to find employment elsewhere (which is breathtakingly common). This is the perfect introduction to an artist we've grown to love across the years.
Meet Gonzales Seignon:
We've known Gonzales for years. He's a genuine artist – the real deal. He's quiet, respected, a leader. Gonzales was born in Carrefour, Haiti in an art community in 1988. Carrefour (epicenter of Haiti's 2010 earthquake) is renown for painting and sculpting (wood and soapstone), and Gonzales began drawing early in life.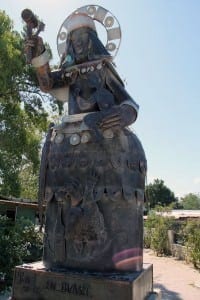 His Spanish grandfather, along with his Haitian wife, moved to Carrefour Haiti in the early 80's. Gonzalez's family settled in Croix des Bouquet several years later.
Gonzales's shop measures a scant 12 x 13, and he employs 10 people when he receives large orders. "I know that art is my life — music, dance are my favorite things; metal art supports my family."
But his dream is to be a doctor.
Being an art entrepreneur / owning his own company is challenging, "I never know if I'll sell enough art this month to pay rent ($35 mo), buy materials and feed my family (2 parents, 3 sisters, 1 brother)."
His dream for Croix des Bouquet is to establish a learning center for artists and visitors. His personal dream is to visit the White House. We're working on BOTH of those things.
Gonzales' Mother Earth Tree of life is beautifully designed and hand crafted from an oil drum.
His Nativity is exquisite.
But our true favorite? His rooster