We're Singing Rooster – a social enterprise nonprofit partner of small producers in Haiti. We've been working with coffee farmers for over a decade and began working with a small group of Haiti's cocoa producers in 2015.  For those new to this crop – cacao is the raw seed used to make all things chocolate!
We sell cacao by the 3 pound sample or 35 pound box: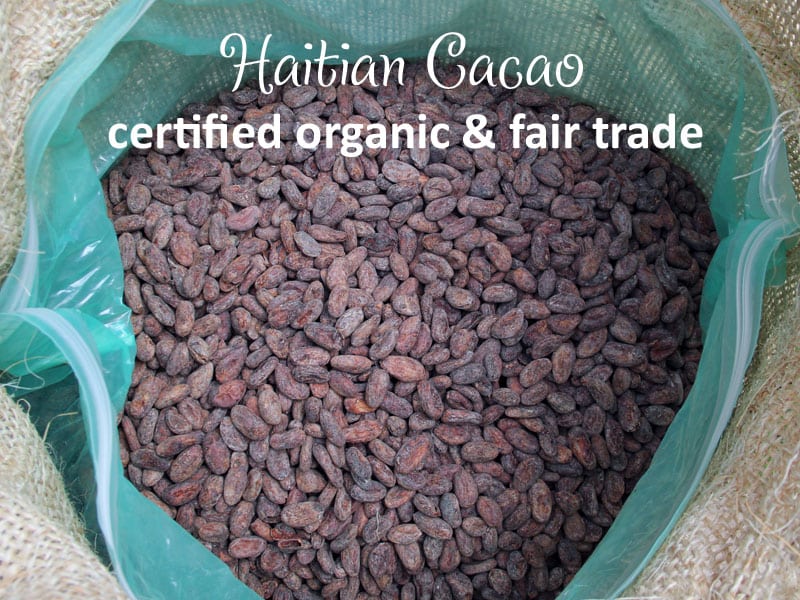 Some bean to bar chocolate makers have known about Haitian cacao for years. It's their "secrete" weapon where many are taking home national & international awards. Our Haitian cacao is rare – nutty, fruity, essence of chocolate cake. We invite you to join them.
This article briefly describes Singing Rooster's work with small cacao co-operatives in Haiti.  Elsewhere on our site, we provide helpful tips when roasting Haitian cacao.  Plus, we sell raw cacao beans to chocolate makers big and small. Need to sample? Purchase 3 pound bags of Haitian cacao . Already know what this bean can do? Purchase 35 pounds. buyi
Like coffee, Haiti has a long history in growing and harvesting cacao– over 200 years. Not all cacao is the same. If you're a chocolate enthusiast, you'll appreciate something unique in Haitian cacao. Unlike most of the world's cacao, Haitian cacao is among the top 3% of cacao on earth. It's rare and delicious.
Singing Rooster's fermented cacao comes from a small farmer co-op in the north. Rare, Unique, Fair Trade, Organic Cacao from Haiti
Producer: Farmer-owned : FECANO/KAFUPBO
Dominating genetic origins : Trinitario, Criollo
Certified Organic : ECOCERT
Certified Fair Trade : FLO
Bean evaluation: These beans are typically smaller than some other cacao, are beautifully fermented. We provide farmers grainpro storage (to preserve their humidity). We also help them to build fermentation tanks and provide training in small business management.
Raw Haitian Cacao Testimonials
We hear the same complements over & over :
"Haitian chocolate is rich, smooth, and fruity. There's an essence of jasmine and a surprising note of licorice. It's mellow, smooth, unique."
"We have had amazing reactions to the quality of the Kafupbo chocolate at the The Big Chocolate Show in NYC."
"We love the cacao beans. We are still resting them before we temper, but I love how they taste. How long will it take to get two sacks?"
"The raw beans smell and taste like chocolate cake. BTW- I've tried a lot of cacao beans (my last bag was organic criollo), but yours are by far the best! I'm excited to do business with you. I love what you guys are doing."
"I LOVE this cacao, Molly! I made my first batch with a medium roast, and it has absolutely no bitterness. It is pure, rich chocolate with a hint of hazelnut."
"I definitely get floral notes throughout and then a mild hazelnut kicks in at the end. Who knows how it will be after aging? Can't wait to see."
"This chocolate has legs — a velvety, smooth finish that lingers."
Lasting Impact
We bring proceeds back from our own chocolate bar line to build better businesses in Haiti. The bottleneck in Haiti? Fermentation tanks. We've doubled their capacity bringing greater economic stability to rural regions.
We're establishing long-term relationships with bean-to-bar artisans by connecting them directly with farmer producers through our work. Win-win.
Singing Rooster's own chocolate bar line is a hefty 78% dark bar — but it has the qualities of milk chocolate. Velvety. Smooth. Low acidity. Fruity! Our includes range from dried cranberries and roasted coffee bits to peppermint. But our best sellers are the plain and sea salt nibs. Buy a Singing Rooster Haitian chocolate bar online and see for yourself.
#beantobar
#haitianchocolate
Want to stay in the know about all things Haitian coffee, chocolate and art? Join our enews– an informative monthly newsletter with special coupons, product announcements, and the sharing of resources. Sign up today.