Singing Rooster – campion of Haiti's small producers – has ideas for your fundraising event. Looking to sign up for an actual wholesale account? Learn more here on how products from Haiti rule: Fundraise with Singing Rooster Haitian Coffee, Chocolate, Art. Down to business: You're wasting your time if you don't have a GREAT game plan for getting folks to show up.  Publicity is so important, we've created Publicity Templates for fundraising events.  This is your first (and biggest) task. Start on this first — then keep at it.
Count to 4
Fundraising is a lot of work. Less is more. Concentrate efforts on 4 fundraisers or less annually & promote them like the girl scouts (the cookies are here). We have ideas.
Set up a Monthly Coffee Cart
80% of adults drink and will spend $300 a year on coffee — why not Haitian?
Get folks to pledge / sign up to drink Haitian (for a year?).
Distribute bags via a coffee cart / table on the first Sunday of the month. Involve a youth group. Too often? How about first 2 Sundays every quarter! At the office, put monthly coffee in the break room for pickup.
Set and post a concrete goal for money raised. Track progress, share photos, stories.
Coffee cart plans & other materials
Do a Bake Sale right
Hold a raffle for best pie or hold a cooking demonstration (Haitian rice pudding? avocado ice cream? most creative use of a plantain wins?) Have fun, but no need to re-invent the wheel : we're practical & there's nothing wrong with a great bake sale.  Involve attendees :
Hold a jelly bean tasting competition  — collect entrance fees, blindfold participants, give winner 1/3rd of the pot (or bragging rights — whichever is preferred).  Let bystanders play.
juicy pair
margarita
toasted marshmallow
green apple
buttered popcorn
Use Pre-existing Events
Chances are great your organization (or sister organization) has pre-established fundraisers. Capitalize on them by simply adding Haitian coffee, chocolate & art to the lineup.
Ask other kindred spirits to add coffee sales on your behalf to a pre-existing event (think Rotary Club).
One of the Rooster's best customers is a school in CA –kids sell coffee during halftime & raise $10,000 annually.
Harvest the energy of children : Whoever said "Youth is wasted on the young;" was genius. Talk with energetic teachers. School children make great coffee ambassadors & can spread the word about your work in the community quickly.
Schools are great places to sell coffee or chocolate in mass quantities : concerts, theater & sporting events.
Work towards a concrete amount for something specific: providing Haitian kids with drinking water.
Gift Basket Building Event
Organize a gift basket building event for thanksgiving (that hostess works long hours!), Christmas, Valentine's day or Mother's day… all are perfect holidays to celebrate.
offer several different baskets at various price points & sizes — from a pretty cardboard box or paper bag to Singing Rooster's metal bowl
coffee & chocolate bars are perfect building materials
we have a BIG variety of small metal ornaments
a hand embroidered card adds the perfect touch
items produced by Haitians you know
Provide cellophane & bows. Sell cookies, coffee & chocolate. Raffle one basket filled w/ goodies.
Haitian Breakfast
Honor Haiti once a year through a special fundraiser breakfast of spaghetti, ketchup, boiled eggs, and toast. Oh yeah, have coffee available for sale & charge for the meal. And yes, you can go old skool with pancakes and bacon… whatever makes sense.
Invite local Haitians to speak about his or her hometown and the importance of economic development in Haiti.
Ideal dates? January 12th, Shrove Tuesday / Karnival, Mother's Day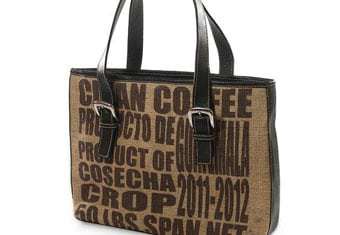 Baby it's Cold Outside: Recycled Art Contest… game nights… more
Tap into the crafty & throw a recycled art contest. Announce in advance (so folks can save bags, materials), give examples, categories, set a date. Ask people to share ideas and have "advisors" on site offering encouragement.
Sell desserts, coffee, auction art. Exhibit final products to panel of judges. Example categories:
Most useful
Most creative
Most artistic (in a fine arts kind of way)
Most surprising (wow, that's a coffee bag?)
Fan favorite (all attendees get a vote)
completed at home
Silent Auction or Root Canal? Flip a Coin
Silent auctions have terrible return on investment. When you add up the time it takes to solicit then track donations, create descriptions/photos/displays, organize staffing, then lugging everything to an event, setting it up, collecting bids, identifying winners, giving winners prizes… it becomes a losing effort. If you're going to do a silent auction, limit it to 5 big ticket items ($500 minimum in value per item).
Then to off-set the big items, set up a market place for Haitian goods. Singing Rooster alone can provide coffee, chocolate, and art. Add in jewelry, leather goods, hand embroidered cards, baby blankets, totes and more from other vendors – now you have an event.
Game Night : Hold a game night the same evening as the recycled art contest for spectators not making art.
Hold a Haitian crafts & coffee sale during the event – award winners crafts and coffee. Have sweets for sale for the "break" period. Have a running slide show detailing your work in Haiti.
Valentine's Day Dance : Bring back the art of slow dancing & hold a dance! Offer lessons on the fox trot, swing or waltz! Sell Haitian chocolate themed desserts – send folks home with bars of chocolate & coffee.
You'll earn kisses & cocoa farmers earn a living. Win-win.
March Madness : Host your own basketball tourney :
Get people together for an afternoon of fun. Supporters sponsor courts, local businesses donate prizes. Have iced coffee & deserts available for purchase.
Farmer's Market : Ask your favorite local farmer's market vendor (bakery?) to sell Haitian coffee and chocolate on your behalf.
If you're a non-profit, school, charity, parents adopting kids, Singing Rooster offers a unique fund raiser with our AWESOME tasting but rare Haitian Mountain Blue coffee, Haitian chocolate & Haitian art. Buy Haitian products wholesale to raise money at your own fundraising events. We've helped hundreds to raise THOUSANDS.
Singing Rooster is a social enterprise nonprofit who means business. Help us support Haiti's producers, reforest Haiti & build rural economies with one simple act: use Haitian (coffee, cocoa, art) at your next fundraiser.
Learn how fund raising with Haitian products will help raise money for your organization. (Hint: you buy coffee at wholesale prices & retail to supporters).
Stay in the Know – join our monthly enews