Yes. We wholesale Haitian goods for Mission trips, church groups, medical orgs, nonprofits, schools and eager individuals desiring to raise money at fundraising events (including garage sales!). Most groups we support know Haiti well, but we work with anyone wanting to use our excellent products: Haitian coffee, chocolate & art.
By fundraising with Haitian coffee (chocolate & art), you're getting quality items people want; 80% of adults drink coffee and most enjoy chocolate. Haitian art does great at big events a 3-4 times a year: fair trade festivals, Christmas bazaar, Valentine's Day and Mother's Day, for example.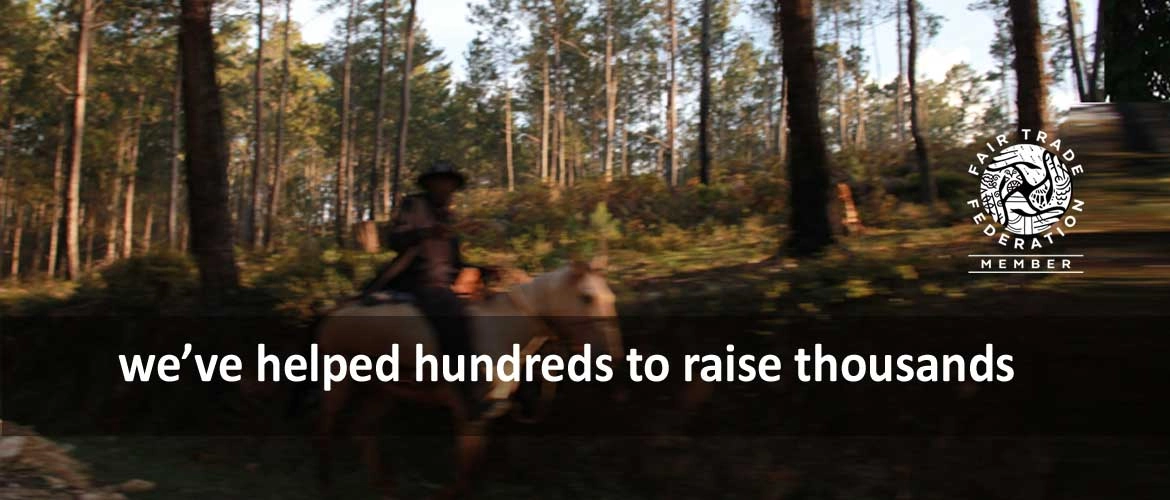 We make it easy to raise money w/ Haitian goods:
read through our FAQ below for necessary details
register an account (upper right hand corner on site)
next, forward the email you receive to info@singingrooster.org

include your nonprofit or company name & a link to your website

we'll email you directions on how to access wholesale ordering
registration/login allows you to track orders, print invoices, re-order easily
Searching for Singing Rooster Wholesale coffee in Haiti? We do that.
Frequently Asked Questions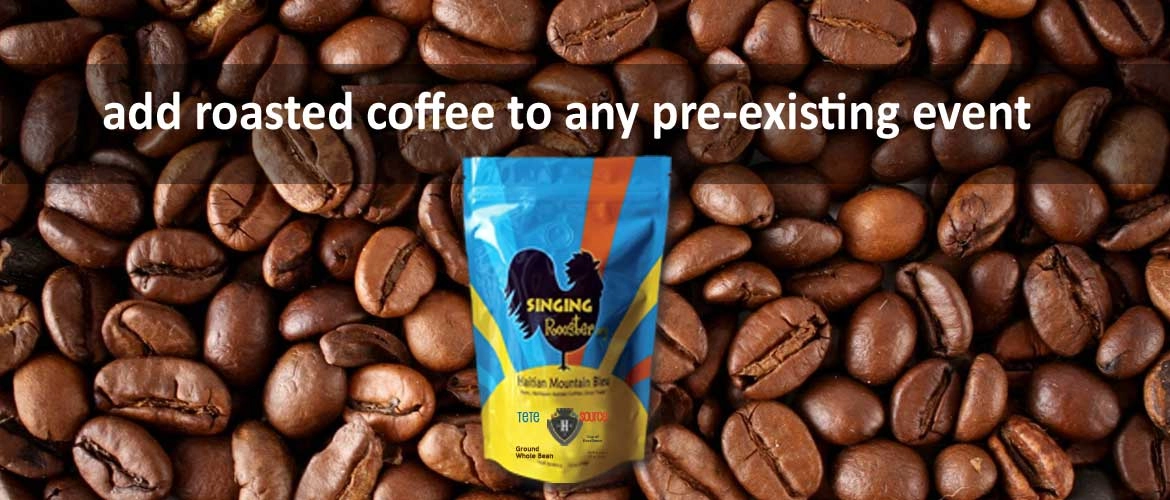 Fundraising w/ Haitian Coffee Details
We've been roasting Haitian coffee in the U.S. for over a decade; we know this bean and offer a variety of roasts from light to dark, fruity to velour. For wholesale/fundraising pricing, you'll purchase 24 bags minimum (12 ounce bags, mix & match roasts, mix & match types: ground, whole bean, single serve kusp). We offer 5 pound bulk bags too: 20 pound minimum or mix and match with 12 ounce bags.
Create an account to learn more about wholesale pricing (directions above).
Flat shipping = $15 no matter how much you order beyond minimum — shipping to a commercial address is ideal. No P.O. boxes (sorry).
Biggest bang for your buck = 48 units (it's a shipping thing).
Haitian coffee is classically Caribbean – chocolaty smooth with mellow citrus highlights. Fans of Jamaican Blue Mountain and Kona / Hawaiian coffees love Haitian. Need to try first? We sell at-cost, full bag sample pack for U.S. customers (you create a wholesale account to get access to at-cost samples).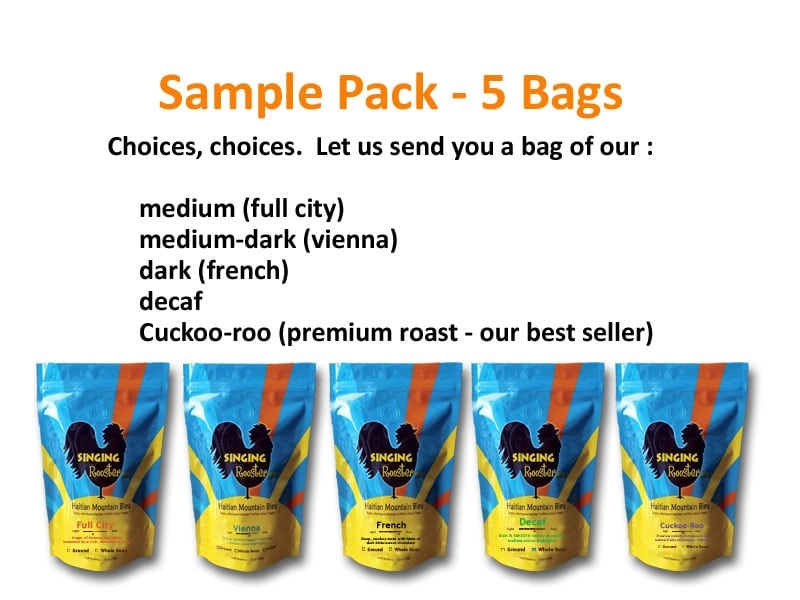 Medium roast — our lightest roast; tinges of lemony highlights
Medium-Dark — our goldilocks roast: not too light, not too dark. Crowd pleaser. Decaf & single serve Kups (12 kup box)
Dark — we NEVER roast to a shinny bean level (great for photos, lousy in the cup). Our dark offers those bitter-sweet nuances of a well done roast.
3 Premium Roasts: cost a bit more because we pay farmers more for a job well done:
Cuckoo-Roo: medium dark, natural fruity under tones. Won Haiti's coffee of the Year
Tete Source: medium dark, rich & smooth (ideal for espresso application). Won Haiti's Cup of Excellence (not a part of the sample pack)
Haitian honey processed coffee has a lighter profile — keen tasters can pick up a definitive taste of chedeque — Haiti's grapefruit, dried raisin & milk chocolate
How much should I buy? Which Types?
People prefer ground about 60% of the time. Some groups only buy ground – this is a mistake. Buy at least 25% whole bean (unless you know for certain your target only wants ground). Decaf = 15% of the market (and growing). Folks LOVE our decaf — comes in whole bean too. Single Serve Kups in our medium-dark roast Vienna. 12 kups to a box.
First time out? Go with medium-dark (Vienna ) — our goldilocks roast (not too light, not too dark). 24 unit minimum — this is a good first order:
13 Medium-dark (Vienna) ground, 5 whole bean
3 decaf ground, 1 w.bean
2 boxes of single serve Kups (12 kups per box)
*double numbers for a 48 box
How much should I sell it for? Depends on your event. Generally, if you make $3-$4 a bag or $4-$5 for premium, you're doing well. Price it competitively w/ the supermarket & your repeat business will do well.
Shelf-life: we package our coffee in high barrier bags — can last for months if needed (coffee doesn't spoil but it does stale). Ideally, you'd sell our fresh roasted coffee in 6 weeks (fresher coffee sells faster & commands more repeat business). That said, you can drink it months — even years later.
Organic? Haitian coffee is organic by default — farmers can't afford chemical inputs. Also, part of our mission is environmental stewardship where we're planting tens of thousands of coffee and cacao trees (which hold delicate mountain soil, retain water, prevent run-off & bring back the birds) and are training in organic inputs; inputs help with better yields. We're working towards official certification (costs thousands). Our Haitian cacao (chocolate) is certified organic.
Fundraise w/ Dark Haitian Chocolate Bars & Hot Chocolate — ship when it's cool (hot delivery trucks melt chocolate)
Chocolate Bars: 2 carton/48 bar minimum: 78% creamy dark, 2.2 ounces, certified organic, certified fair trade. When you retail, earn 50% profits on chocolate! Many flavors:
pure dark delicious
Wisconsin dried cranberries: sweet/tart & chewy
sea salt & toasty nibs (roasted bits of cacao)
cafe noir (roasted coffee bits – eating caffeine is never wrong)
peppermint crunch – a seasonal favorite (not in variety pack)
We also wholesale Haitian Hot Chocolate / Cocoa for fundraising — 2 flavors: classic & spicy (cayenne & cinnamon – will surprise you!) 15 bag minimum, 8 ounces / 8 servings per bag.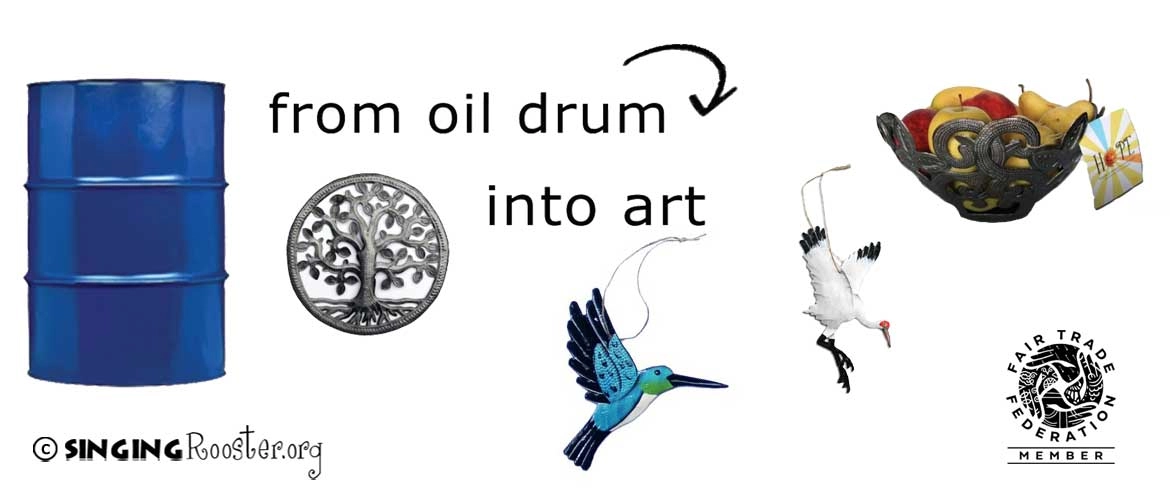 Fundraise with Singing Rooster's Wholesale Haitian art
Singing Rooster has been working with small producer metal artists in Croix des Bouquets for over a decade. We know them well and promote their success. We spend a lot of time working directly with artists to create commercially viable pieces. Head Rooster Molly spends vacation time in the village presenting designs, tweaking art and supporting artists. We're so good at what we do – people copy our work (but this costs us business – so we ask that you support us directly).
Art does well at BIG events 3-4 times a year (coffee and chocolate raise more throughout the year because it's food). That said, art is worth the effort: earn 50%+ proceeds at events.
Minimum art order = $199 ; retail art for 50% profit margin.
Get access to pricing and our 1-page order form by registering an account. Must include co. name & website in the email you forward back to us after you register.
We take up to 48 hours to process art orders. After we pack, art arrives fast by FedEx (no PO addresses).
$20 flat ship: delivery takes from 2 days (you live close to Wisconsin) to 4 days (West coast). When in doubt, order early.
Art Consignment? Packing/shipping art is a lot of work. We tried consignment; it's not a great fit for us. Instead: Some groups order a smattering of items to reach the minimum – then hold a pre-sale (display art, take orders, then submit a BIG order). Bottom-line: don't want leftovers after a fundraising event? Sell art at or near the wholesale price towards the end of your event (you'll not lose a dime).
e-commerce Partner – earn proceeds when YOUR customers shop Singingrooster.org
Have supporters ACROSS the U.S. and you can't fundraise / organize a single location event? Then our partnership program is for you. Your users shop on our site – you earn proceeds:
you promote your unique link (we send to you along w/ promo graphics)
your customers click it
if they purchase something, we ship goods directly to them
our website tracks each purchase, and your earnings grow over time
you may log into your account at any time & view sales
Tell Molly@singingrooster.org – I want to become an ecommerce partner!
Invoicing?
If you're a good customer, YES we'll continue to invoice (net 30 — we're small, so you'll remember / won't need a reminder. You agree to a 1.5% fee on invoices past 30 days). You'll still register an account & place an order online using the 1 page Quick 1-page order form. When you check out, you'll select:  Pay by Check/Invoice
Private Labeling?
We do private label (you acknowledge the Rooster on the label) — but it works best for big clients with big sales (5,000+ bags a year). Why? Over the years we've learned this: many groups want their own label, spend time and resources creating labels & run out of steam selling coffee. Plus, it's more expensive – up to 20 cents more per unit (you buy 1000 front & 1000 back stickers up front) + another 15 cents for us to put them on.
Another option? Co-brand by using Singing Rooster's bag. Groups who use the Rooster's bag hit the ground running & focus on sales. Plus, by putting a sticker on back of the Rooster's bag, you're taking advantage of our colorful brand that tells a story consumers support:

Rooster's back tells a great story that connects w/ consumers.

A business card size sticker can say a lot about your organization – fits perfectly at the top. Download template. Follow instructions to the letter. You buy 1000 stickers up front for $65 plus shipping to your location (you put on bags).

The big sticker (4.5 x 4.5″) covers the top and can say a lot about your organization. Download template. Follow instructions to the letter. You buy 1000 stickers up front for $99 plus shipping to your location (you put on bags).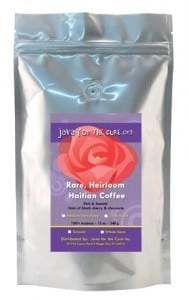 Full-on Private Labeling: If you anticipate big sales (5000+ bags a year) and you want your own label – Yes, we do that. Your graphic designer uses this template to create a front & back label. We order stickers & attach to plain/matte stand-up silver pouches. Follow ALL instructions. You buy 1000 front & 1000 back labels up front; you'll order 24 bags of coffee, minimum, of the same roast.
Even though it's a private label – we ask that you acknowledge our partnership.
How much do farmers earn?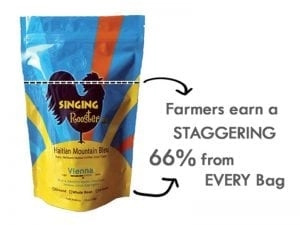 For each bag of coffee sold, Farmers earn over $3.50 a bag and a coffee tree is planted on deforested mountains. This is significantly higher than fair trade and helps to reverse years of deforestation. Read more about our approach. The remainder of costs — 34% — pays for export/import, transport to roastery, warehousing, roasting, bagging, shipping coffee.
Marketing Materials
We've created cut and paste text + wonderful images you may use in e-news, on your site & for social media (just make sure you link back to the Rooster's website in your citation and talk about how partnering with us is building a self-sustaining Haiti). Marketing materials ship free with any order: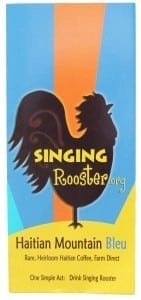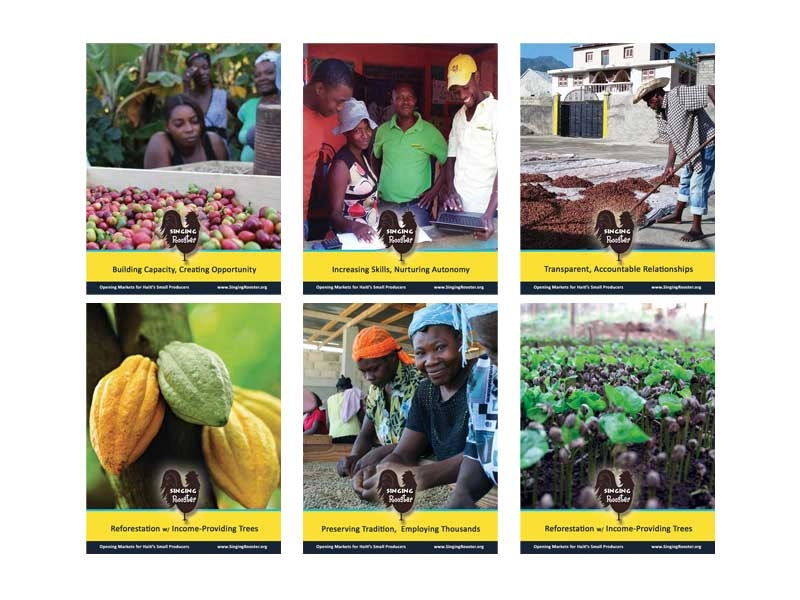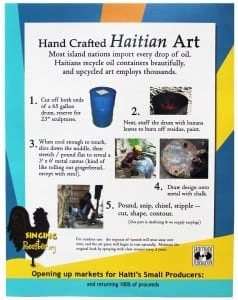 Colorful 3.5 x 4″ Tent Card – perfect on cafe tables, next to the brewer at church or on the shelves at stores
Fundraising resources, ideas, templates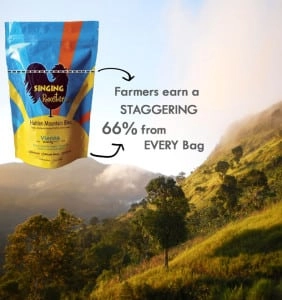 Fundraising with Haitian coffee is a TON of work. We've made some pretty fantastic materials to make it easier on you: Including photos & text you can cut and paste to use on social media.
Publicity Resources save time when you're fund raising.
If you're tired of the same-old-same-old — we have the best fundraising ideas !
Where do you work?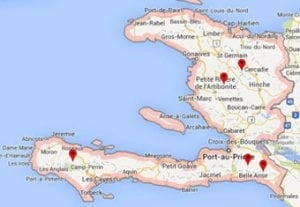 Singing Rooster works with small producers across Haiti. For coffee, we work as high as Dondon & the Cahos, Baptiste, Thiotte, Fonds Jean Noel, and as far west as Beaumont (still rebuilding after hurricane Matthew in 2016). We exceeded fair trade payment for crops, and we return 100% of proceeds to farmer communities in the form of agricultural, small business management, and development activities. Lots of groups claim to work shoulder-to-shoulder with producers — but most are exaggerations or plain fabrications. Read more about our work with coffee & cacao farmers in Haiti.
Fair Trade? Better.
Singing Rooster is a social enterprise non-profit established in 2009. We partner commercially with small-holder producers to alleviate poverty:
Agricultural and business consultants
Organizers of pre-harvest financing
Primary buyers of crops/products at premium prices
Product transformation into higher value items (like roasted coffee and chocolate bars)
Business guiders, developers, cheerleaders
Equitably distributing economic gains
Market creators (like fundraising with Haitian coffee)
Will you work with OUR farmers?
We get a lot of interest about our work with farmers in Haiti. We work with established farmer-owned cooperatives (have been farming coffee and cacao for decades). Fields may be old & in poor condition, but coffee and cacao are presently growing in your area.
We're not equipped to help with brand new farming start-ups.
If you require consulting or technical assistance, we offer consultation. We ask that you pay for services by using our Haitian coffee & chocolate fundraising program — because that's how we roll! (you raise money for consultation by selling Haitian coffee & chocolate to your sphere of influence).
I want to do what you're doing.
We're flattered so many have found our model inspiring and hope others build autonomy in Haiti (through agriculture or whatever means). We're a tiny, mostly volunteer based & simply don't have time for free consulting. If you have detailed questions & want to spend time learning about what we do – or you need technical help in Haiti – we do that.
If you require consulting or technical assistance, we offer consultation. We ask that you begin your request by using our Haitian coffee & chocolate fundraising program — because that's how we roll! (you're a pre-existing wholesale customer – shows us you support autonomy & want to grow with our help)
Can I get Singing Rooster in Canada?
Yes! In short, the Rooster's coffee (340 g) is roasted in Canada (ships from Canada) at Canadian postal rates. Most Wholesale Art is too expensive to ship from the U.S. to Canada (sorry). But if items fit in flat rate boxes (small items) and you fill that box, we'll ship it. Have a significant art request? Buy a minimum of $950 U.S. – we'd ship from Haiti to Canada. Other details apply – call us: 608-721-0622. We ship retail art to Canada all the time — can be pricey, but we have lots of happy Canadian customers. We can't control if you'll be charged duty. More details here.
Can I get Singing Rooster in Haiti?
Yes. Our wholesale coffee program is growing in Haiti: guesthouses, shops, hospitals, etc.
Email Molly for details & then to place an order (coffee delivered in Haiti).
More details here — or contact us so we may better serve you.
Still have questions? Shoot us an email.
Stay in the Know – join our monthly enews