Haitian Coffee = long lasting change, one cup at a time. Change your mind & behavior will follow.
Thesis: In a country where unemployment hovers over 60%, over a third of the GDP is western union, and 60% of the food is imported, we need to focus on creating sustainable communities in Haiti through agriculture. In my presentation at the Twinning conference, I laid out a framework with rich resources that encourage groups working in Haiti to concentrate on urban / community gardens. I'm emphatic that school curriculum be situated around community gardens where classroom learning is hands-on application of learning while gardening. The added bonus is eating produce at school lunch time.
Today – I'll focus more on coffee agriculture. Singing Rooster is actively partnering with Christ the King –experimenting with coffee agriculture in Pilette. Our collaboration will attempt to answer the question: can coffee grow successfully in Pilette — enough to employ a handful of locals while also generating income? Keep in mind that coffee sold at local markets commands as good as or even higher prices vs. exporting to international markets.
Why Coffee?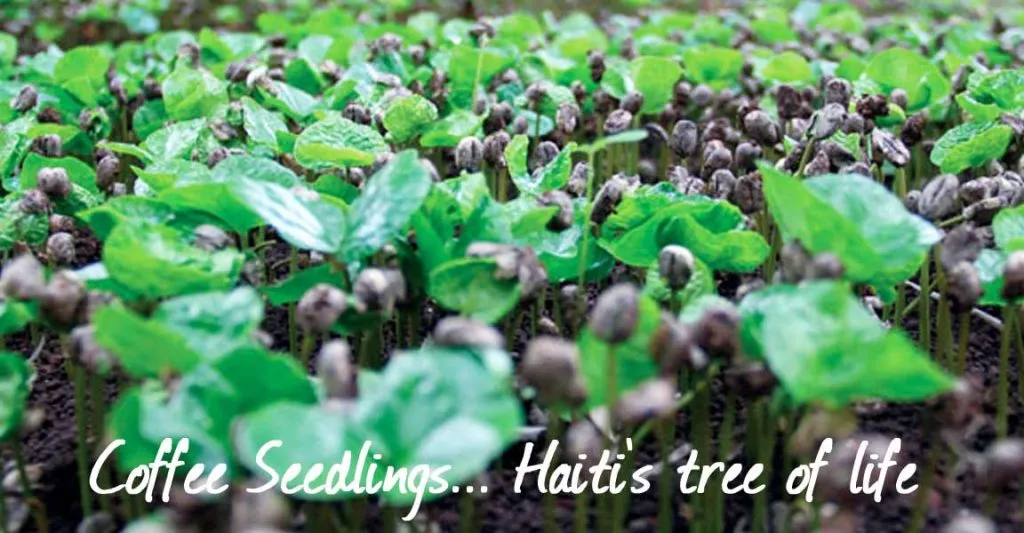 Why coffee? I blame it on Google. Over a decade ago, after several trips to Haiti with our church, we researched "crops of Haiti" and discovered Haiti was the world's 3rd largest supplier of coffee in the 50's for a reason: Haiti is the most mountainous country in the Caribbean. 65% of Haiti's lands are vertical. Coffee loves altitude. Plus, USAID had put in place several coffee processing centers in the 90's. So we thought this: Haiti used to be good at growing coffee & there's a semblance of an infrastructure…. How hard can this be?
We work with coffee farmers as high as Dondon / Trou du Nord (Pilette) as far south as Thiotte and the Belle Anse and on the western mountains of Beaumont (in 2016 Hurricane Matthew traveled directly over this region, decimating towns, infrastructure, livestock and crops. Coffee is still in recovery in Beaumont. Our partner cacao co-op is located in the north, near Port de Paix. Coffee and cacao were once significant crops for Haiti and can be major factors in Haiti's path to self-sustainability (job creation, economy-building).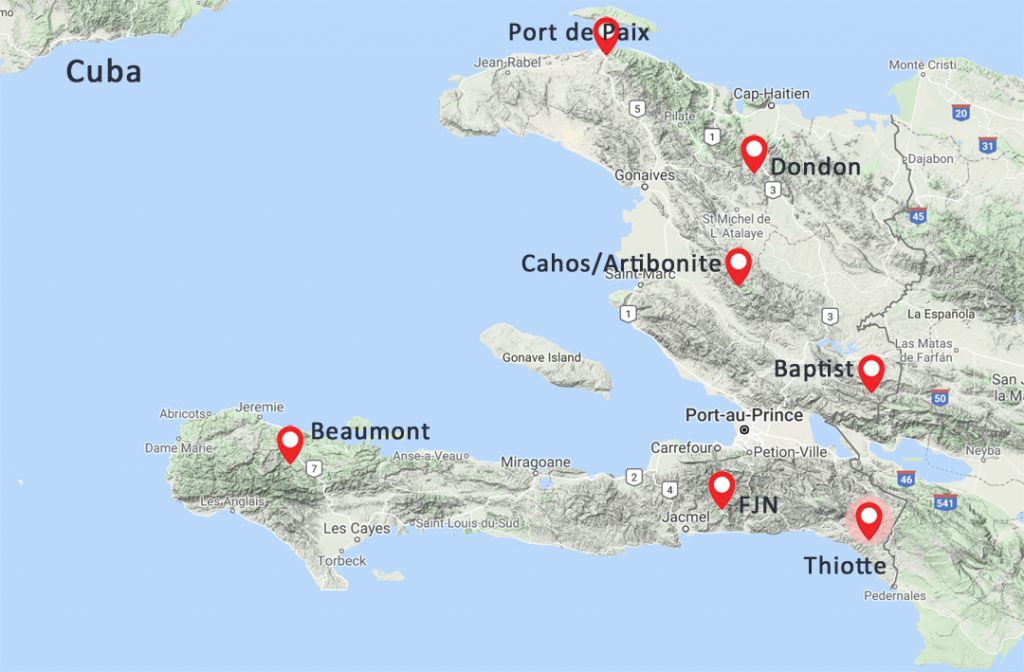 Singing Rooster began working with several small Haitian coffee farmer co-ops in 2009. Our initial goal was simple: help coffee farmers to regenerate fields, improve crops & get U.S. roasters to notice this classic Caribbean gem. After all, Haiti was the world's 3rd largest supplier of coffee in 1950; if we could help them a bit here & there, we could begin to infuse rural economies with a steady income. What could go wrong?
Simple plans don't always go as expected — we quickly realized that we'd (2 in the U.S. and 2 in Haiti) would need to take control of the entire supply chain (no choice); the frail coffee infrastructure would require it. Plus, U.S. roasters, for as much as they tout the phrase "fair trade", were not going to pay farmers what they deserved for crops. We found we'd have to roast it ourselves. Singing Rooster handles Haiti's entire supply chain — from crop to cup.
The price per pound paid to coffee farmers is based on a commodity system that operates much like a stock market. For several years, the C price for coffee has hovered around the farmer's cost of production ($0.80-$1.10), which means no profit for farmers. From a high in 2014, prices paid to farmers have plummeted by 70% and now dance around $1 per pound. Every pound a farmer sells, pushes a farmer deeper into poverty and despair. As green prices keep falling, Starbucks has continued to pay coffee farmers less, while charging consumers more.

Dean Cycon

"Fair Trade" coffee merely adds a premium – usually 40% more than commodity markets. So.. if the C market is $1 .. then fair trade = $1.40. But we've found that we can do better, and we're now experimenting with coffee-growing in Christ the King's partner community, Pilette Haiti.
Let me take you through the process of a buck 40: plots of land are small in Haiti – divided across generations; in contrast, the wealthy élite own acres & acres (often rented to the poor). Many major land owners don't even live in Haiti. The small producer has been growing coffee on family farms for over 200+ years – during French occupation, Haiti was known as the pearl of the Caribbean, supplying Europe with 40% of it's sugar, 60% of coffee on the backs of 500,000+ slaves; now the tables are turned where Haiti imports over 60% of it's food… (in comparison, the U.S. imports 15% of its food).
Back to the Buck 40
Seedling cost is nominal, .50 cents (we provide in bulk to farmers — every bag of Singing Rooster plants a tree). That seedling takes 3.5 years to mature to produce ~2 pounds per year. Trees are actually shrubs. You'll notice from the photo above that berries mature at different rates; women are given the task of walking through fields daily to pull red cherries from thorny bushes.
Next, cherries are taken to coffee processing stations that can be far from the farm to float out bad cherries. Thereafter, they're hulled & heaped in piles to ferment. After 24 hours they'd be washed; we're experimenting w/ a non-washing method. After fermentation, the tricky task of drying ensues.
Once a 15% is reached, they rest for a month in parchment in a giant plastic bag (to maintain moisture levels). Thereafter, the giant plastic bags are transferred several hours over rough terrain to our sister company, Kok ki Chante.
Singing Rooster's farmer partners are paid $4 per pound for green coffee. Why? It's the most we could pay farmers without going out of business. This payment far exceeds fair trade prices but we have strings attached to this excellent payment. Part of the the payment must be put in the bank as a working capital reserve; by severing the ties to banks — which can charge up to 35% interest on loans — rural economies have better opportunities to flourish. Next, part of the funds are required to be put towards business development. Co-ops decide how best to improve their business and Singing Rooster provides matching funds. The third requirement is that part of the payment involved community development: lighting a well-traveled part of the road, fixing the well, repairing the main road.
Along with paying well for crops, our small team of agronomists in Haiti helps farmers to regenerate old fields, including planting hundreds of thousands new coffee trees & their shade tree canopies. We improve coffee processing techniques to move from water intensive processing to just a few buckets.
We've developed a secondary processing facility in Croix des Bouquet — a necessary warehouse that finishes the coffee: parched coffee is dried to a uniform 11%, it's hulled from parchment, then sorted (sorted, sorted). Thereafter, it's put back into the giant plastic bags, inserted into jute sacks, and then waits until the entire harvest is ready to be loaded into a 40 foot container (300 x 132 pound sacks is our best packing yet). We hire a driver to take the container to port where it ships to Miami, is palletized, then ships to Wisconsin.
Singing Rooster provides full-time employment for 10 Haitians. We provide seasonal employment for 50-60 bean sorters and 15-20 farm workers (7 months of the year). After several years of work, our Haitian-lead team formally organized as a Social Enterprise commercial enterprise known as KKC (Kok ki Chante). After 12 years of hard work, it is now self-sustaining.
Christ the King's Impact
From the beginning Tony, Earl, Martha & the Haiti committee offered exceptional guidance; Christ the King understood the directive: keep assisting Haitian partners with generous donations and projects that support sustainable growth while ALSO simultaneously supporting Haiti's current coffee farmers with one simple act: drinking Haitian coffee.
One partner church can yield significant results – in 5 years, CtK has purchased about 12,500 bags of roasted, wholesale Singing Rooster coffee (80% of your congregation will drink coffee anyway, so make it Haitian). If CtK earned, on average, $3.50 per bag sold, $44,000 in proceeds were generated to support teacher salaries at their school in Pilette. But it's much bigger than this. Because CtK is a wholesale customer, it enables Singing Rooster to do this:
pay farmers well: $37,000 went directly into the pockets of farmers
employ Haitians (this coffee allowed us to pay our KKC support team $22,000)
plant ~10,000 income-providing seedlings on deforested mountains
$44,000 + $37,000 + $22,000 = $102,000 (and reforestation w/ coffee trees)
Lesson learned: when wholesale customers return their own proceeds to Haiti, Haiti "earns" 77% of every bag sold of Singing Rooster coffee.
Where do we go next?