What, exactly, is Haiti's iron village? Good question.
Haitian steel drum art / hammered metal is world renown. Haiti's mecca is located in Noailles / Croix des Bouquets – a BIG suburb of Port au Prince. When it's safe to travel Haiti, we invite you to visit the Iron Village w/ Singing Rooster (you can notify us of your interest at the end of this article). In this article, we describe nuisances of this vibrant town -where artists work, live & produce fabulous pieces of art.
In a second Singing Rooster article, we detail how an oil drum is converted into an artists' canvas – complete with a video demonstrating the entire process. It's worth every minute (the guy is wearing flip flops). In a third article, we detail the process of creating art from steel — from canvas to inspiration to cutting to delivery. We include videos that will inspire you.
Noailles – the Iron Village
The compact village of Noailles is located within Croix des Bouquets — a bustling suburb of 470,000 people north east of Port au Prince. Although Noailles is less than 10 miles from the capital, it's a hard to reach venue as the measly 2 lane bridge on the one main road can back up traffic for HOURS (Haiti's department of tourism has a lost gem in this hamlet). Remember: with no public transportation, Haitians take to the roads to get children to and from school. Knowing when to travel here is key, and it doesn't always require the middle of the night driving (but we've done that).
Near CDB but lost? The sign for the art village is easy to miss. Just open your window and listen for non-stop clanking of hammers and chisels on metal. Better yet, roll down a window and ask "Ki kote vilaj la atizay?" You'll know you're in the area when you start seeing beautiful metal signs hanging outside most workshops.
Many of the workshops are pleasantly situated among trees and open to the fresh air. Walking from shop to shop, the tinkering, pounding, hammering of artists in the distance creates a cacophony of music — until you get closer when ear plugs become necessary. It's just a FUN place to visit. Eye candy but with ear plugs.
Town Square – Madame Steel
The most recognizable point of interest is Madame Steel; she commands the town square. Look closely, she's an amazing multi-tasker: holding a hammer & chisel, suckling a child, and prepping dinner (the rooster at the bottom of her dress). Is that a club next to the rooster? Or a bottle of Haitian rum? No judgement; life for women in Haiti is one continuous multi-task. The irony? Metal art is mostly the work of men – scarcely a woman artist in sight. We're working on that.
Streets Filled with Art
You'll feel like a kid in a candy shop looking at row after row of artwork with each piece more spectacular than the last. Bring your camera/phone, notebook, and ear plugs. You'll also want money — but ask first if you should pay in US dollars or gourdes ("r" is silent: goude). Normally, artists prefer dollars, but on occasion, the Haitian government does stupid shit with devaluing the dollar overnight (which makes the gourdes more valuable).
Taking it all in for the first time can be overwhelming in this busy town where artists compete for attention. But don't fret it; just wander and wander. It's a compact area, and you'll not get lost. Let Madame Steele be your anchor. It's perfectly fine to tell artists you're looking around. But admittedly, with several dozen shops, it's hard to tell one shop from the next after a while (think t-shirts in Key West). Best advice: if you see a piece you love at first sight, buy it. You'll never regret it, and you're supporting a struggling artist. Win-win. Also, if you do visit Haiti's Iron Village – Croix des Bouquets, bring along ear plugs.
As you meander this small village, art is everywhere. It lines outdoor walls, streets, and shops. Most of the art is made from upcycled oil drums. But all materials are fair game: pans, spoons, lawn mower parts, flip flops, marbles, beer caps. Singing Rooster's personal favorite upcycled item? Fan parts. Meet Christmas Angel: oil drum body & wings, ornate fan headdress, paint can lids serve as decoration.
Your Purchase Grows their Business
We don't just admire the art and pay artists well; your purchase / our support helps them grow their business. Meet Junior Branchedor — a metal artist since the 90's. We were introduced to Junior on a hot summer day in 2017 when he was sharing a studio space with our beloved Louis Omniscar. It's common for artists to share the $35/mo rent, and they have a sense of duty to introduce new artists. We were impressed with his nativity sculptures, but he needed help with the details (shepherds hold cane staffs, not candy canes!). We purchased several dozen pieces of his art and kept ordering across the years. Our support enabled him to open his own studio AND his own shop — which measures a scant 3 feet across and 7 feet in length. It's enough space for him to sell paint, brushes, and other tools artists use daily.
Visit Haiti's Iron Village – Croix des Bouquets w/ Singing Rooster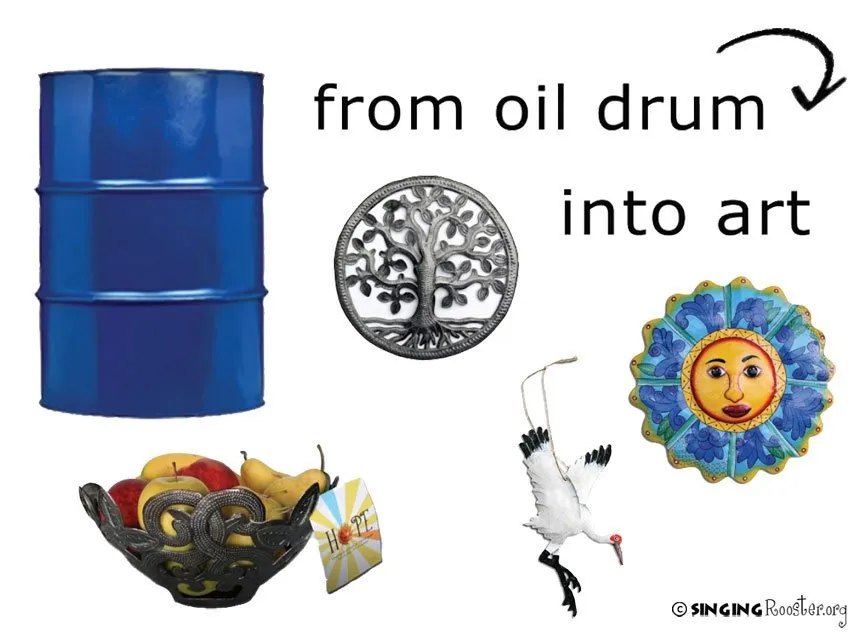 Singing Rooster loves this town and the people who live here; we've established long term relationships with many artists who have studios in the epicenter — near Madame Steel. We retail and wholesale Haitian art online to help build better businesses for our producer partners. By putting Haitian art on the walls, shelves or by fundraising with Haitian products, you're getting quality items people want while providing hundreds with jobs; our direct collaboration with small artists resonates because treating each other well is the end goal. Sign up for your wholesale account today – then sign up to get more information: I want to know about your next art trip to Haiti (we'll collect names & send out details when Haiti is again safe to travel).
#oildrumart ?️
#singingrooster ?
#croixdesbouquets ?
#yourartmatters ?
#mothersdaygifts ?
#hammeredmetal ?
#fairtrade ⚖