Looking for a grand adventure?  Something fun to do in Haiti?  Visit Haiti's largest waterfall with Singing Rooster.org;  we visit the fall at the end of every trip to Haiti's coffee lands.  Saut d'Eau (falling waters in French) or Sodo (waterfall in Creole) is a spectacular site where getting there is half the fun.  Geologists believe this beautiful water fall was created by an earthquake in 1842.
Saut-d'Eau becomes a mecca of sorts for thousands who visit each July for a special celebration.  It's more like a week-long party with music, food, and spiritual contemplation.  The annual event is called the festival of the Lady of Carmel and takes place each July 14-16. Thousands travel from across the island for the event to bathe in the waterfall and be healed.
Religious Pilgrimage: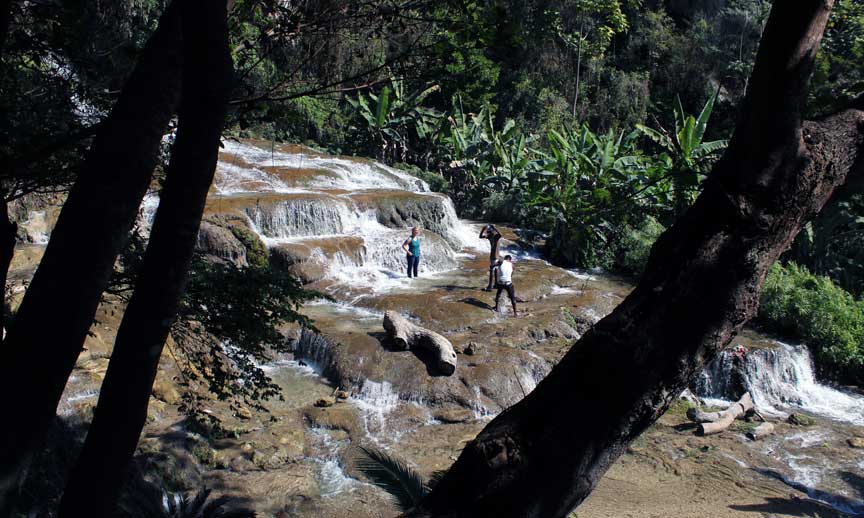 Saut-d'Eau is not your average waterfall; the Virgin Mary appeared as an apparition on a palm tree in the 19th century and began healing the sick. Haitians began flocking to the site in search of blessings. In 1891, a French priest, Father Lenouvel, was angered by the practice and considered the site to be superstitious, not religious. He cut down the tree. After having done so, he went back to his church, lost consciousness and died that same day.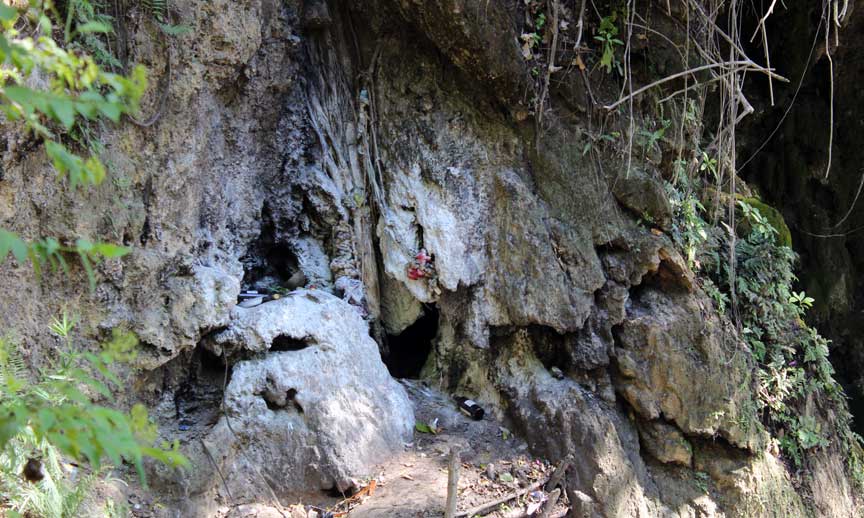 No matter, local Haitians appointed another palm tree to be the site of St. Mary's appearance. This angered a second Catholic priest who sneaked to the site and chopped down the other tree. He fell ill and died a few months later. Lesson learned: leave your ax at home when visiting the falls.
This waterfall is truly a beautiful site, and it's worth the drive to the top of the mountain. Saut-d'Eau is spectacular just by the sheer volume of water; you'll never see this much fresh water in Haiti. Ever. There is no big pool at the base of the fall, but the setting is a visual smorgasbord of rocks, foliage, moss, and the sound of massive amounts of water on the move.
Insider Notes:
In July 2019, the entrance fee was $5 per person.  A hoard of young guys gather around the entrance gate, hoping to be selected as a guide.  The guides aren't necessarily providing tours, but they help navigate the slippery rocks on your way to bathe in the cool running waters.  On our first trip, we weren't careful when selecting guides, and a throng tagged along. A big disagreement ensued at the end of the tour when everybody wanted $5 for holding a tourist's hand to navigate rocks.  Another lesson learned.
On her first trip to the falls, Marianne (Singing Rooster's favorite home Haitian coffee roaster) asked for the blessing of Haitian farmers — that they be recognized for their work and receive great prices for crops. Because #yourcupmatters and #travelhaiti is fun.
Trip Details:
Drive time: 90 minutes from Croix des Bouquets — head towards Mirebalais / the central plateau. We left after breakfast – around 9-ish. There was no school traffic at that time.
Cost: $5 entrance + a few bucks for the guide (make an agreement up front – before you leave the gate).
What to bring: swim suit, towel — it's fun to go in the water (bathing in your clothes is completely acceptable). For those inclined, bring a prayer or a poem. It's a spiritually powerful setting and evokes contemplation.
Food & Drink is not available at the site; bring your own snacks & drinks (many picnic here — but please take your trash with you).
On the way back: there are many restaurants in Mirebalais; we will vet some of them and report back in the future (we regretted not stopping for lunch on the way back).
Want to experience Haiti first hand? Singing Rooster offers fun things to do — tour Haiti's coffee lands and we'll show you a side of Haiti rarely visited.
#visithaiti
#haitiancoffee
#tourcoffeelands
#yourcupmatters
Follow Singing Rooster Haitian coffee on Instagram – we're hip.