Be the Hero this Valentine's Day

– Go Haitian

Singing Rooster works hard all year round but shines in February with our Best Valentine's Presents EVER: gift sets of Haitian coffee, chocolate, art. Singing Rooster – #fairtrade, hand made because #yourcupmatters. Singing Rooster's box of love will earn you a big hug, maybe more. $45 / Free Ship
1 bag premium Haitian coffee
2 Haitian chocolate bars
handmade LOVE art
Singing Rooster coffee mug
small gift card (leave us an "order note" and we'll include a handwritten message)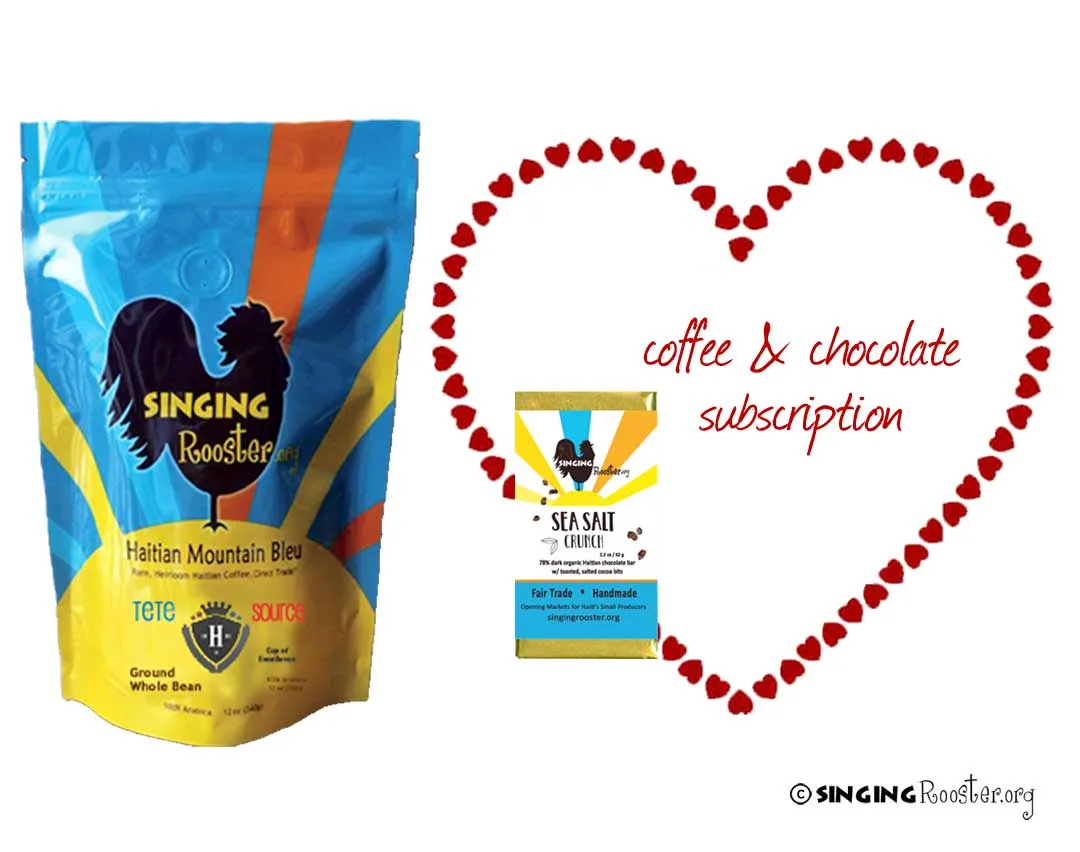 Interesting Facts about Valentine's Day:
Valentines Day began in 270 AD when Bishop Valentine was jailed for performing weddings against the emperor's wishes. While in the clink, he wrote love notes to the jailer's daughter, signing 'From your Valentine'.
In the 1800's, doctors advised heartbroken patients to eat chocolate.
Richard Cadbury took the Dr.'s advice one step further in 1868 and produced the earliest box of chocolates in a heart shaped box.
Gump would have preferred Singing Rooster's 78% chocolate bar line — chock full of antioxidants. Plus farmers in Haiti win!
Send your Valentine an entire CARTON of #Haitianchocolate (24 sumptuous bars) for WHOLESALE prices (nobody needs to know).
Like the idea of Haitian chocolate, but 24 bars is just too much? We have another gift: 4 dark Haitian chocolate bars in a beautiful, handmade metal bowl: $45 with FREE express ship

In Victorian times, it was considered bad luck to sign a Valentine's Day card. Who doesn't love a good secret?
Valentine's Day candy conversation hearts have a shelf life of FIVE years.
Love you to the Moon and Back!
Men spend twice as much as women on gifts. The average man will spend $150 to let that special someone know they're loved. Hey guys, save a little cash & get her a Me & You Infinity gift set (she doesn't need to know you saved money).
Lover her / him to the moon and back? Of course you do. We'll tuck in a handwritten note card if you leave us an "order note."
We have other gifts from Haiti here: Haitian chocolate, art & coffee.

200 million roses are sold in the U.S. on February 14th.
The most romantic of all? South Koreans. The 14th of every month marks a romantic holiday : Candle Day, Valentine's Day, Rose Day, Kiss Day, Music Day, Wine Day, Movie Day, and Hug Day.
#yourcupmatters
#haitiancoffee
#valentinegifts
#giftsfromHaiti
#shopvalentinepresentsonline