About Singing Rooster – champion of Haiti's coffee & chocolate producers
Singing Rooster supplies U.S. and international markets with gourmet Haitian coffee (green or roasted), chocolate bars or cacao (for chocolate-making) and art (fair trade retailers, nonprofit fundraising). Join us – we're a social enterprise nonprofit who means business. We partner commercially with small producers in Haiti to build better businesses while simultaneously re-introducing the world to fabulous Haitian products.
Are you a fair trade retailer? A nonprofit holding fundraisers? An ambitious individual? Check out our wholesale Haitian coffee, chocolate & art program. Adding wholesale Haitian goods to the shelves or fundraising events is easy.

We handle Haiti's entire supply chain — from crop to cup.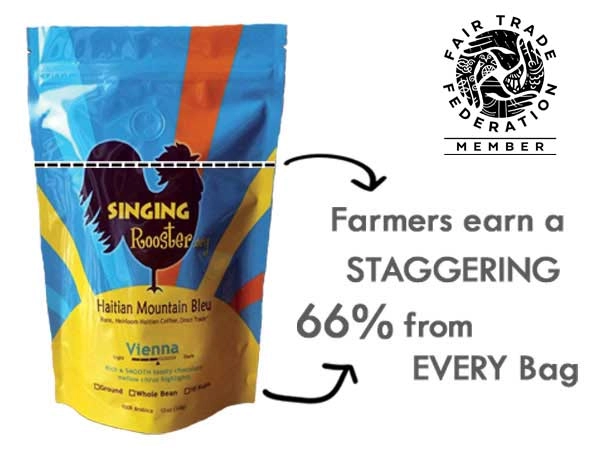 Farmers are paid a MINIMUM of $4 per pound; we return another 50 cents after crops sell for business development. The remainder of costs — 34% — covers export/import, transport to roastery, warehousing, roasting, bagging, shipping. Farmers earn a staggering 66% from each bag sold. If your group returns your own proceeds to Haiti – Haiti "earns" 77% from each bag of coffee sold. This is significant.
Fair Trade? Better.
Singing Rooster is a member of the Fair Trade Federation but we are more than Fair Trade. We meet then exceed principles of Fair Trade by partnering with small producers as:
Agricultural and business consultants
Organizers of pre-harvest financing
Primary buyers of crops/products at premium prices
Transforming crops into higher value items (like roasted coffee or chocolate bars)
Business guiders, developers, cheerleaders
Equitably distributing economic gains
Market creators (tell your favorite nonprofit, Fair Trade or grocery store about us)
Want to help?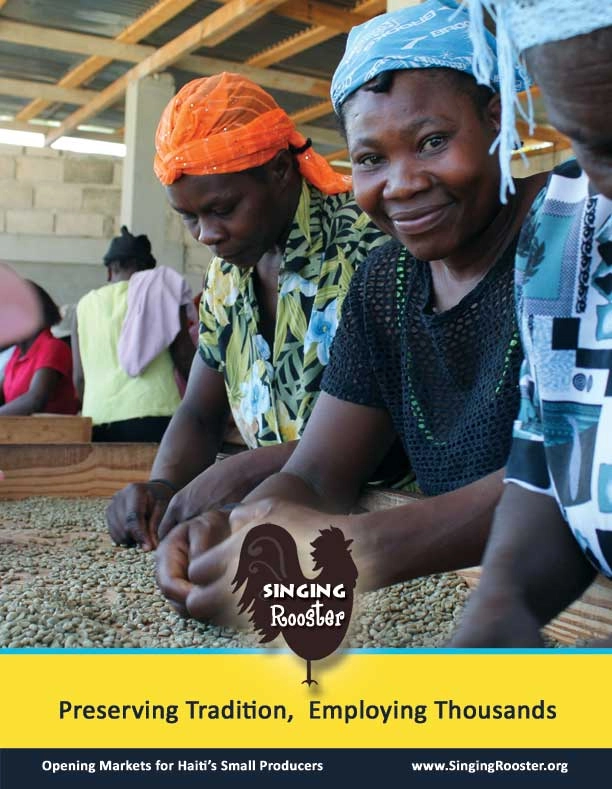 Shoulder to Shoulder
The per capita gross national income is less than $800 a year for a farmer family in Haiti. We're building rural economies because farmers, not middlemen, spend money at home. Singing Rooster works with small producers across Haiti, and we pay as much as twice for crops compared to Fair Trade (it's not hard — Fair Trade isn't fair at all). We return 100% of proceeds from sales back to farmer communities in the form of agricultural, small business management, and entrepreneurial development activities.
Our 990s :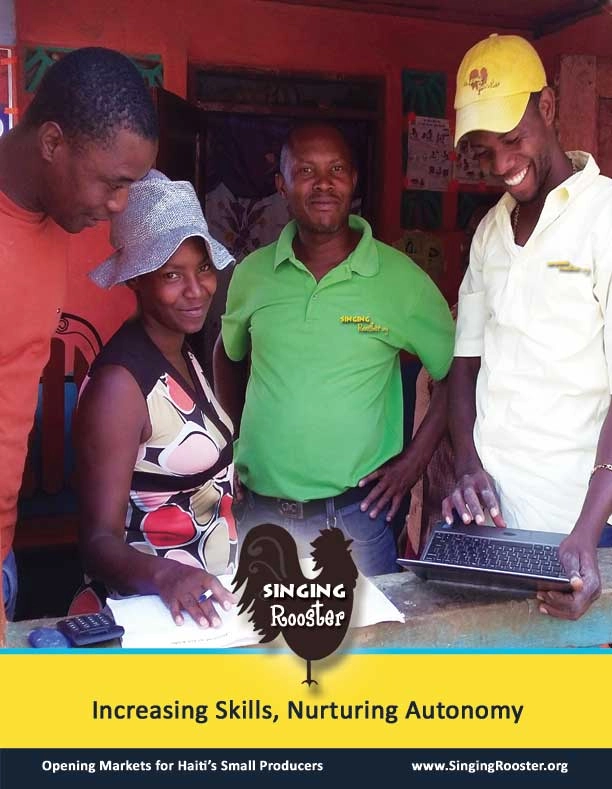 Business Training
Haitian farmers have been growing coffee and cacao for centuries. With modest instruction in basic accounting and training on costs of product transformation, farmers now show younger generations a viable way to earn livings. We've helped to improve yields
Equipment Upgrades : We research, investigate and test equipment that transforms farming. We visit countries like Colombia, Nicaragua, and Canada where farmers are organized and value education.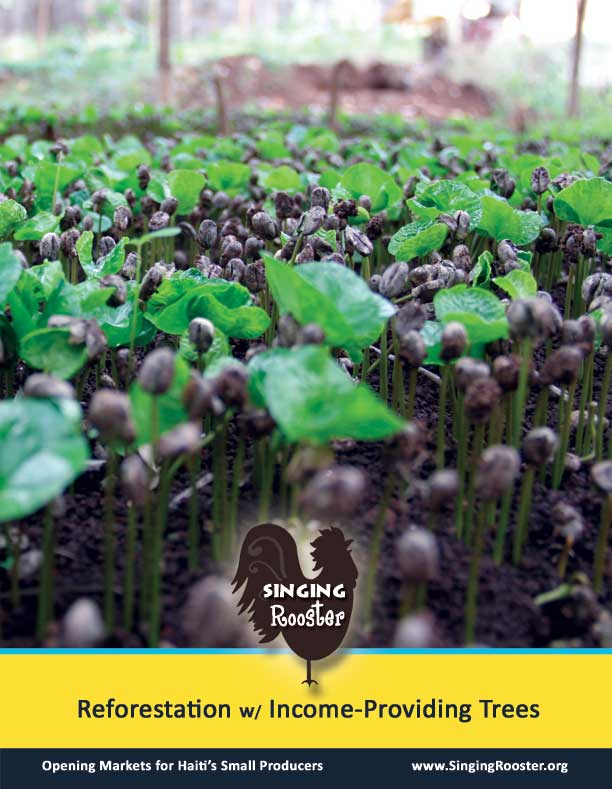 Environmental Impact
Along with managing the entire supply chain on behalf of producers, we've planted hundreds of thousands of coffee seedlings (+fruit tree shade canopies) in one of the most deforested nations on the planet. In a country where less than 5% of lands are forested, this is significant. Read more on how coffee trees are changing the face of Haitian mountains.
One coffee seedling provides 20 years of income; 5 bucks plants 10 trees. Please donate to our coffee seedling nursery efforts!
About Singing Rooster Organizational Structure / Team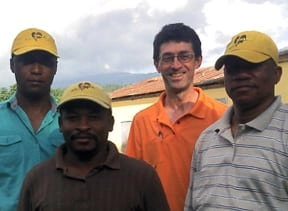 Singing Rooster is small – but that's our advantage. Honing our model for years, we're promoting rural prosperity in Haiti through a comprehensive approach. We help farmers build yields and better businesses. Then we simultaneously create direct market access for farmer partners.
Join us. Invest in Haiti's small producers: drink Haitian coffee, eat Haitian chocolate, admire Haitian art.
Christophe Nicaise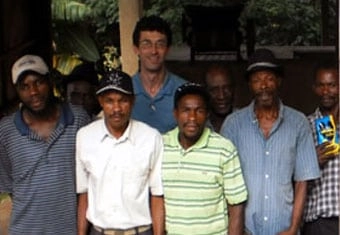 is co-founder and VP of Singing Rooster. He's a skilled entrepreneur and oversees supply chain management with coffee and cacao farmers in Haiti. This guy put in 40+ hours a week with Singing Rooster. He's a kind, gentle sort who has a hard time saying no — which is why everybody loves him.
Christophe's favorite quote: "To whom much is given, much is expected." Luke 12:48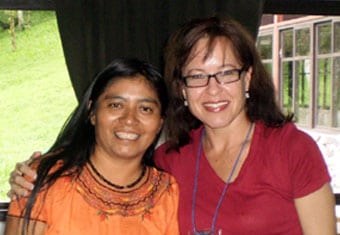 Molly Nicaise
is the co-founder and CEO of Singing Rooster. Molly manages U.S. operations; she brings knowledge of product development, branding, and sales. She is a tireless advocate for small producers — including metal artists. She brands, manages the website and works with producers in Croix des Bouquets to develop commercially relevant art.
Molly's favorite quote: "Farmers, not middlemen, will transform Haiti."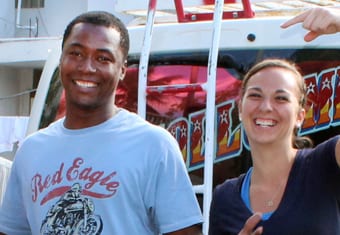 Fedner Exantus
is Singing Rooster's in-country supply chain manager. Born in Croix des Bouquet, he and has worked with Singing Rooster from the beginning – since 2009.
He supports 6 networks of coffee farmers across Haiti serving as an agricultural support technician and offering business management training to farmer-owned co-operative team leaders. Fedner's favorite quote: "Anyone can jump a motorcycle. The trouble begins when you try to land it." Evel Knievel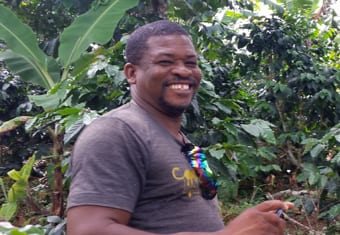 Alphonse St.Louis
is a Haitian agricultural technician trained by Inter Aide, a French NGO specializing in carrying out development programs with rural families.
Alphonse has been working with Singing Rooster for 9 years and travels Haiti supporting 6 networks of coffee and cacao farmers providing guidance and skill-building.
Alphonse's favorite quote: "First we eat, then we do everything else." M.F.K. Fisher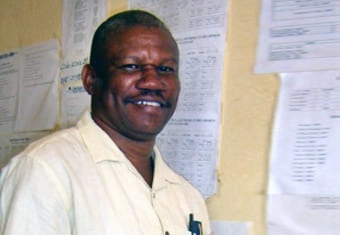 Rodolphe Eloi
is Singing Rooster's elder statesman. He provides training in accounting, business management, and life. Our Haitian (and American) staff look to him for guidance and wisdom. He served as a principal for decades in a remote, mountainous village and knows the hardship Haitians face with massive unemployment.
Eloi's favorite quote: "Piti, piti, wazo fe nich li. – Little by little, the bird builds its nest." Haitian proverb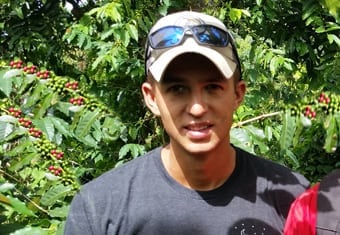 Justin Dena
is Singing Rooster's Director of Marketing and Development. He's an Arizona native, and his love for coffee started at 15. He is a Marine Corps Veteran and has a degree in International Relief & Rescue. He's determined to make a positive impact. His most recent trip to Haiti was a great one – broken down engine, 4-wheeling alternative, and electrical outage from a downpour (the guy can improvise).
Justin's favorite quote: "The best way to find yourself is to loose yourself in the service of others."
~ Gandhi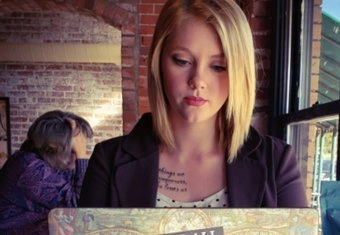 Keelia Trively
is Singing Rooster's publicity maven. She writes, hashtags, takes exceptional photos, and publishes. Keelia is a photo journalist and skillfully tells the story of farmers and small producers in Haiti who crave recognition (and meaningful employment). Want to see her work? Follow Singing Rooster on Facebook or Instagram
Keelia's favorite quote: "Don't let anyone speak for you, and don't rely on others to fight for you."
– Michelle Obama
Ismael Lazarre
has been opening markets on behalf of farmers since 2015. He specializes in Port au Prince area grocery stores but is expanding into boutique hotels. Looking for wholesale coffee in Haiti? He'll help you create account and navigate details. Looking for Singing Rooster coffee in Haiti? You'll find it at GIANT and Stop and Go Supermarkets (plus many other places).
Ismael's favorite quote: "We're the ONLY gourmet coffee in Haiti."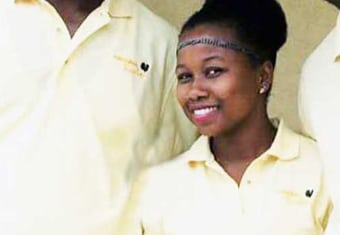 Sarragine Rincher
oversees the coffee processing and roasting facility in Croix des Bouqet. She manages aspects of secondary green processing: drying, sorting, bagging. Preparing coffee takes a lot of work and she's up to the challenge. She also steps in as needed – going above and beyond the call of duty. We're lucky to have her.
Sarragine's favorite quote: "Who took the key?"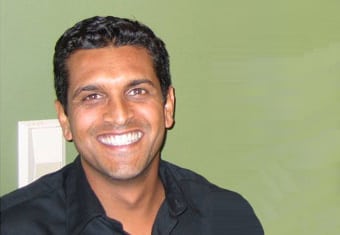 Saurin Nanavati
is Singing Rooster's big idea guy. Saurin brings much experience to the Rooster; previously he managed Root Capital's financial advisory program, implemented a mobile phone-based agriculture system in Uganda, was the program director at an organic fair trade cotton cooperative in India, served as a technical adviser for USAID's microenterprise development program in Armenia, and is a former Peace Corps volunteer in Panama.
Saurin's favorite quote: "Your cup matters."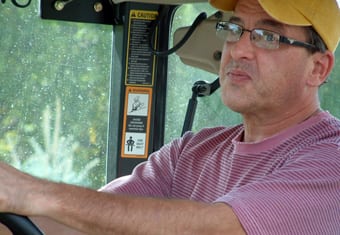 Joel Friedrich
is Singing Rooster's head roaster in the U.S. and oversees our entire warehouse operation in Wisconsin.
He gets the coffee roasted, bagged and boxed. You need green Haitian coffee? He's the guy who coordinates the packing, loading and shipping. There's a lot going on behind the scenes at the Rooster & this guy works long hours. We're grateful for his dedication.
Joel's favorite quote: "It's 5 o'clock somewhere." -Jimmy Buffet
Mme Sylvie & Journal
We've been working with farmers for years and have cultivated great relationships — Mme Sylvie & Mme Journal are rare in Haiti: women in agriculture. They serve as technical consultants for Singing Rooster: overseeing new business practices, harvest management, and preparing crops for export. We're proud to support women in farming.
"Agriculture not only gives riches to a nation, but the only riches she can call her own." -Samuel Johnson
Kaitryn Olson
Is Singing Rooster's new publicity intern. Kaitryn is a junior at the University of Wisconsin Madison pursuing a degree in Economics with an emphasis in math and environmental studies and a certificate in Public Policy. Kaitryn is passionate about helping people and the environment which will make her a great fit at Singing Rooster.
Kaitryn's favorite quote:"What you do makes a difference, and you have to decide what kind of difference you want to make." –Jane Goodall
About Singing Rooster Board of Directors
Jeff Friedrich is the Manager at Forensics Laboratory, Medtox Laboratories, Minneapolis. Jeff is a Green Belt certified management professional that gets results through aligning the business strategy with department objectives, engaging the workforce and measuring results. Extensive experience implementing policies and procedures that improve quality, cost, delivery and safety. Demonstrated ability to coach and mentor high performance cross functional teams that deliver short term and long term business results.
Justin Dena is an Arizona native, and his love for coffee started at 15. He is a Marine Corps Veteran and has a degree in International Relief & Rescue. He is passionate about making a positive impact in the world. His most recent trip to Haiti was a great one – broken down engine, 4-wheeling alternative, and electrical outage from a downpour (the guy can improvise). .
Karen Kallerud is an Independent Non-Profit Organization Management Professional currently serving the United Way of Dane County Foundation. Karen Kallerud's involvement is essential for United Way to make an impact on issues like academic achievement, homelessness, and the independence of seniors in Dane County. Karen helps the Rooster open markets for Haitian goods.
Regina Lloren McConnell – Regina has a long outreach history, working in leadership positions in impoverished neighborhoods in Madison and then serving as the FoodShare Outreach Specialist/Agency Representative at Second Harvest Foodbank of Southern Wisconsin. Being experienced in Nonprofit Organization Management, Regina brings excellent ideas about market development for Haitian coffee. Regina helps the Rooster open markets for Haitian goods.
Stay in the Know – join our monthly e-news