When you buy Singing Rooster Haitian coffee, chocolate and art online, you're directly supporting small producers in Haiti. Singing Rooster Inc. supplies U.S. and other international markets with the finest gourmet Haitian coffee (green or roasted), chocolate bars or cacao (for chocolate-making) and art (for fair trade retailers, nonprofit fundraising). Looking to raise money for your work in Haiti (or elsewhere?). Our #haitiancoffee, #haitianchocolate & #haitianart fund raising program offers excellent profits. Create a wholesale account today.
Join us - we're a social enterprise nonprofit with a big heart. We partner commercially with small producers in Haiti to build better businesses and simultaneously re-introduce the world to fabulous Haitian products.
#yourcupmatters
Haiti won independence from France in 1804 to become the world's first black republic. Ever since, they've been fighting for economic sovereignty. Coffee is a significant path towards this goal, where heirloom Arabica Typica coffee have produced rare, specialty coffee for centuries. Coffee agriculture creates thousands of sustainable jobs. Haiti was once one of the world's greatest producers of coffee; Singing Rooster is helping put #haitiancoffee back on the map. All you need to do is this: Buy the finest Haitian coffee, chocolate, art online from Singing Rooster.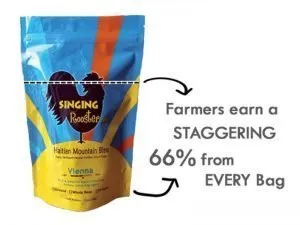 Singingrooster.org is a social enterprise nonprofit working shoulder to shoulder with small coffee and cacao producers in Haiti. We've raised yields, created jobs, and improved cupping scores considerably.
We're a member of the Fair Trade Federation but are bigger than #fairtrade or direct trade coffee; we have built inroads to first world markets on behalf of farmers for over a decade. We re-invest proceeds to build better businesses.
Get updates to your in box regarding our work with Haiti's farmers; furthermore, we announce Haitian coffee & chocolate specials and new products!
Join us on Social Media
After you buy Singing Rooster Haitian coffee online, join us on social media.  We post interesting fact, awesome photos and announce sales on Haitian coffee, chocolate and art.
More importantly, we describe our work with farmers and detail how coffee trees are reforesting Haiti & providing income and a multitude of jobs.  In Haiti's metal art district, we work directly with small producer artists and guide them in creating commercially viable products.  Our focus on world-class Haitian cacao is just beginning.  We launched a Haitian chocolate bar line that is helping to build fermentation tanks and improve sales.
Join us (then tell a friend):
Singing Rooster's Facebook page